Yum! Festival to present three days of the finest food and drink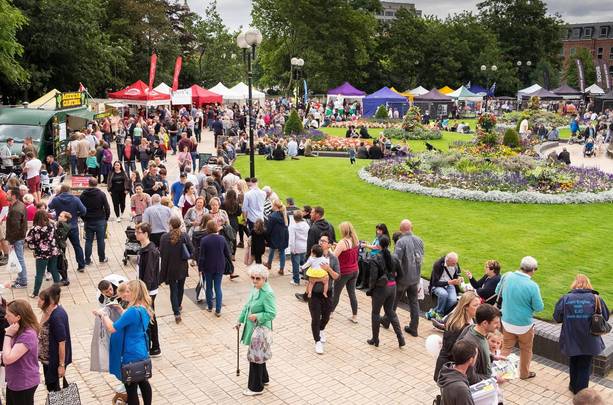 AN award-winning food and drink extravaganza which is in its eighth year will offer a bigger and better array of delights as it extends to three days next weekend.
The Yum! Festival of Food and Drink will bring together businesses from throughout the city centre that have helped to change the face of Hull's food offer. Ranging from small independent retailers to street vendors, bars and restaurants they will be joined by operators from elsewhere in the region as more than 85 food and drink businesses present an event which has become a highlight of the culinary calendar since its launch in 2011.
Organisers at HullBID took the decision to spread Yum! over three days to accommodate the increasing number of businesses eager to take part and to showcase more of the food and drink being produced and consumed in and around Hull.
Yum! will take place in the Rose Bowl and in Queen's Gardens in Hull city centre from 10am until 8pm on Friday and Saturday and from 10am until 4pm on Sunday.
Attractions include free children's entertainment with face-painting, healthy cookery classes and cupcake decorating. The Yum! Emporium will present the best locally-sourced produce the region has to offer, from pies and cheeses to chocolate treats, macarons and even toffee vodka!
There will be a section dedicated to some of the stars of the Hull Street Food Nights offering such international delights as pizza and pasta, curry and crepes, tapas and Tex-Mex. The Cheers area will create one of the most eclectic beer gardens in the region, with a variety of hot and cold, alcoholic and non-alcoholic drinks.
Admission is free and the food on offer will include a wide range of vegetarian, vegan and gluten-free dishes. Away from the site, foodies will be able to save money by cashing in on Yum! Festival offers and competitions, with many businesses offering big discounts and mouth-watering prizes.
Kathryn Shillito, HullBID City Centre Manager, said the festival is being extended this year to cater to the demand generated by foodie-lovers attending Hull Street Food Nights and Hull Trinity Farmers' Market.
Kathryn said: "We know from the feedback we receive from our members that business is boosted when there is a big event in the city centre. We're experiencing it with our Beauty Box event, which is on again this weekend, and of course food is a massive favourite.
"Earlier this year the quality and success of Yum! and Hull Street Food Nights was recognised when we collected top prizes in the Remarkable East Yorkshire Tourism Awards and the Hull Daily Mail Food and Drink Awards. We were delighted with that, primarily because it endorsed all the hard work of the HullBID team and it showed we are organising events that the public want to attend and that benefit city centre businesses.
"We followed up with another new idea – the Hull Trinity Farmers' Market – and now we are building on the momentum again by presenting a feast of food and drink over three days. Saturday is also the day of the Absolutely Cultured domino run, and it all adds up to yet another fantastic weekend to be in Hull city centre."
Future dates for Hull Trinity Farmers' Market are Saturday 25 August and Saturday 29 September. Each event will take place from 11am until 4pm. The final Hull Street Food Night of 2018 will take place in Zebedee's Yard and Princes Dock Street on Thursday 6 September from 4pm until 9pm. The Beauty Box will return to the city centre this Saturday and on Saturday 8 September from 11am until 4pm.
For full details of the Yum! attractions visit www.yumfestival.co.uk You can also follow @YumFoodFest on Twitter and like us on Facebook @yumfoodfestival