Trendy teds dress to impress in Daisy Appeal fundraising bid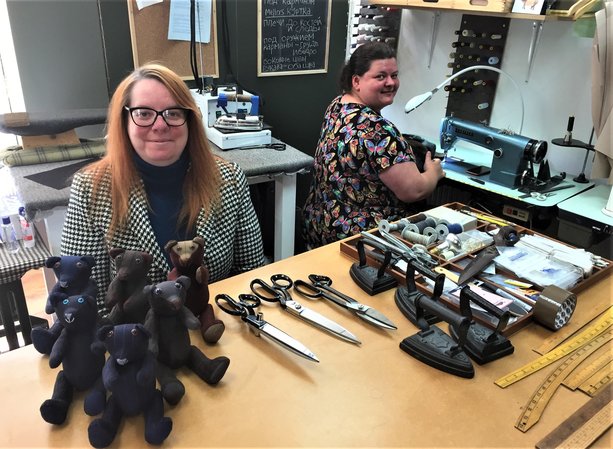 Best-dressed bears are bringing a touch of Savile Row style to the efforts of a charity striving to establish an internationally renowned scanning centre at Castle Hill Hospital.
The Daisy Appeal has partnered with Cock of the Walk tailors in Hull and has secured the sewing skills of an eager volunteer to offer a range of trendy teds for sale.
Fabric from off-cuts at the tailors was spotted by Karen Guest, one of the Daisy Appeal trustees, who asked what would happen to the high quality material which was left over from the production of smart suits and special occasion finery.
Gill Long, founder and owner of Cock of the Walk, said the charity was welcome to take all the spare material if it would be of use. Now, with the trim transformed by the volunteer, the teddies are back on display at the shop with a price tag of £25 and the option of special commissions.
Claire Levy, Fundraiser for the Daisy Appeal, said: "I was chatting to one of the volunteers at an event in Beverley and when I told her we had all this lovely material she said she often makes cuddly toys for charity.
"She got to work and came up with some fantastic teddies and then she diversified into dogs, each of them beautifully made and really high quality. There's a wide range of colours from blues, greys and pinstripes to browns and even bright reds and the fabric is absolutely top quality, ensuring these bears are built to last!"
Gill, who was trained on Savile Row and still has an office in the street renowned for its fine tailoring, opened Cock of the Walk six years ago. The business makes the official apparel for High Sheriffs of the East Riding and is also the first port of call for outfits for new brethren at Trinity House, but the bread and butter is the man, and occasionally woman, in the street who have done well for themselves.
Gill said: "Our customer is the working class northerner done good. They want to mark success with a suit and they want a tailor who makes them feel at ease. We have very wealthy customers who work in London and are from a northern background."
The shop is now open again after a long period of Covid-19 disruption which at one point saw the company working flat out on the production of PPE, with nearly 3,000 gowns delivered to hospitals, care homes and dental surgeries.
Gill said: "Doing the work for the NHS made us realise that it's a good job these skills still exist in this format because we were able to help the NHS in a way that people who sell suits can't.
"We demonstrated the clear value of these skills and we need to keep people trained and employed, but we're not the best people to make dogs and teddies so we were happy to hand over the spare material to help the Daisy Appeal.
"We couldn't believe it when we saw the results. They really are top quality and extremely well made. People can buy them as one-offs and if they want a special commission with a teddy to match their garments we'll see what we can sort out!"
The Daisy Appeal has a target of £8.2-million to complete a radiochemistry and cyclotron unit which will produce radioactive tracers at Castle Hill Hospital to improve accuracy and detection rates for cancer, heart disease and dementia in Hull, East Yorkshire and North Lincolnshire.
The new facility will provide the opportunity for patients to receive more personalised care leading to earlier diagnosis and giving them better treatment and quality of life.
Once the facility is fully functional patients from a wider geographical area will have access to its services. The charity aims to play a leading role in clinically relevant PET-CT research over the next two decades and to show that the technology can be brought to the individual patient, quickly and effectively.
To support the Daisy Appeal by ordering one of the cuddly toys please visit Cock of the Walk or email Claire Levy at claire@daisyappeal.org
To find out more about the Daisy Appeal please visit www.daisyappeal.org
Ends.
Picture details
Pix show a selection of teddies and dogs hand made by a Daisy Appeal volunteer and available at Cock of the Walk in Hull.
Also Cock of the Walk founder and owner Gill Long with one of her team in the shop.
Further information
Phil Ascough 07944 123352.