Golfers in drive to support Daisy Appeal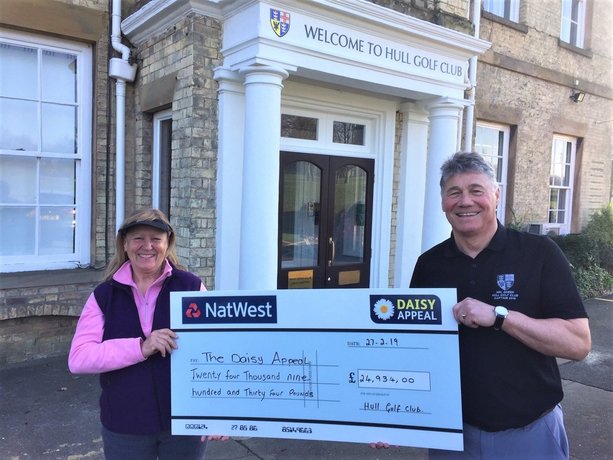 A CHARITY which is chasing a target of £8.2 million to tackle killer diseases in the Humber region was given a great start to its fund-raising year when the former captains from Hull Golf Club chipped in with a donation of nearly £25,000.
The money will help the Daisy Appeal with its project to build and equip the Molecular Imaging Research Centre at Castle Hill Hospital, Cottingham, enabling faster and more accurate diagnosis of cancer, heart disease and dementia.
Mel Green, captain of the men's section during 2018, started planning his campaign months ahead of his year in the spotlight and raised a record amount from activities including golf tournaments and a gentlemen's dinner at the club.
He said: "As captain I wanted to support a local charity and I chose the Daisy Appeal. It's very popular in the area, very local to the golf club and their work is very important. We have a large and generous membership and they provided brilliant support.
"We didn't do anything that nobody else has done, we just did more of it and the money kept adding up!"
Jan McAlpine, captain of the ladies' section during 2018, was able to contribute almost £3,000 towards the overall total from a programme of tournaments and raffles topped up by individual donations.
She said: "The club has 700 members but our section only has 64 and I was amazed by the amount raised from such a small group. Mel and I talked about a charity and liked the idea of supporting Daisy because it's local and it's doing a fabulous job with the new project."
The Daisy Appeal has already raised £12.5 million for a research centre, which opened in 2008, and the Jack Brignall PET-CT Scanning Centre, which opened in 2014. Construction of the Molecular Imaging Research Centre is under way now, with the building likely to become operational early in 2020, adding to the facilities which are used by patients throughout the Humber region.
Professor Nick Stafford, founder and Chair of the Daisy Appeal, is committed to raising Hull's national and international profile as a centre of excellence in medical research.
He said: "He thanked Hull Golf Club for its support and said the money will help the charity reach its target of £7.2 million Everyone at the Daisy Appeal wants to extend a huge thank you to Mel and Jan and their fellow members at Hull Golf Club for all their hard work in raising a fantastic amount of money and for selecting our charity.
"The new centre will allow us to scan patients with certain heart and neurological conditions, including Alzheimer's, as well as those with cancer. We have the opportunity to save many lives in East Yorkshire and Northern Lincolnshire and we would like to hear from anybody who can help us with our fund-raising."
The new unit will All the facilities are used by patients from throughout the Humber region.
For more details please visit www.daisyappeal.org