Charlie set for cross-Channel charity run to enrich children's lives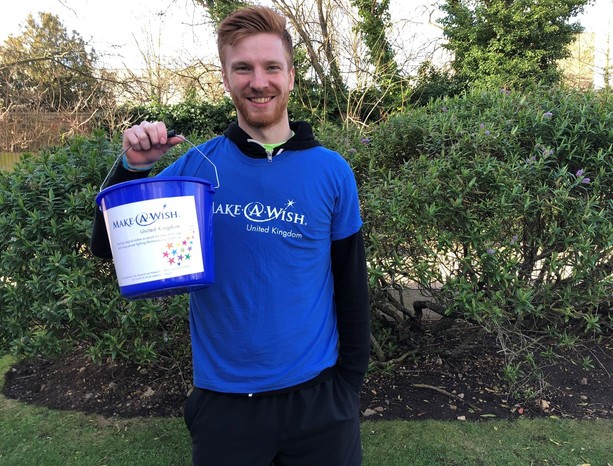 A YOUNG fund-raiser who has never run more than a 10k before is now in training for a cross-Channel charity challenge which will take the form of six marathons from, London to Paris.
Charlie Weatherill will be supported en route by his parents, who have also made a donation to his sponsorship fund. Now he hopes to raise more money from family, friends and businesses as he aims for a target of £5,000 in aid of the Make-A-Wish Foundation.
Charlie, who comes from North Ferriby, was an avid sportsman at Hymers College and then Nottingham University. He developed a desire to take on a major physical challenge for charity after becoming aware of the work of the Foundation.
He will begin the first of the six marathons at Big Ben on Monday 2 April and complete the effort at the Eiffel Tower on Saturday 7 April. Mum Ann and dad Albert will provide meals and fitness support at the halfway point of each marathon. Albert, a member of the Chamber Board and Chairman of the Shipping and Transport Committee, has also committed sponsorship through McAusland Turner, the international marine consultancy business where he is managing director.
Albert said: "We are in awe of Charlie's challenge and we are proud to support him in every way we can throughout this epic run to get him to the finish line!"
Charlie's route out of London will take him through Brixton and Croydon and south to Newhaven by the end of day two. He'll take the ferry overnight from Newhaven to Dieppe, and then run south for four days, arriving in Paris from the north west, past the Arc De Triomphe and then completing the final 2km to the Eiffel Tower.
Charlie, who lives in London and works in insurance, said: "I had always had the aim of raising a decent sum of money for charity by doing a physical challenge of some sort. One day last summer, I half-heartedly thought of the idea of running to Paris and how feasible it would be. The more I thought about it the more I decided I would just go for it. I set up the Just Giving page so there was no turning back.
"I have never done any sort of organised run at all, so this will be my first proper run. I've done a few 10ks just as casual runs but nothing proper! My regime is run, run and run again! A workout in the morning every single day, and then two short-ish runs of 10k midweek and two longer, back-to-back runs of 20-30km on the weekend."
McAusland Turner are providing funds for all the logistics, including fuel, accommodation and food.
Charlie said: "I estimate the costs will end up near £1,000 and that sponsorship means every penny I raise will go to charity. I'll be running a total of 156 miles and I'm aiming to raise £5,000, which will go towards granting wishes to enrich the lives of children and young people fighting life-threatening conditions.
After this, I don't know. There is nothing currently in the pipeline so I think I will see how I get on with this before considering anything of this magnitude again!"
For more information on the Make-A-Wish Foundation visit: https://www.make-a-wish.org.uk
For Charlie's website which contains information on the route, current sponsors a blog and details of how to donate via JustGiving, please visit: www.londontoparisrun.com