1884 Wine & Tapas trumpets its west side story at Humber Street Sesh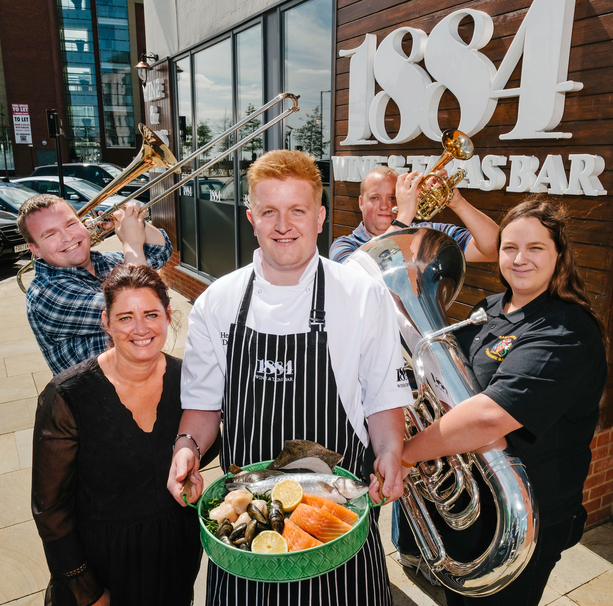 POP classics and songs from the shows will get the brass band treatment as an award-winning restaurant gives local musicians a chance to shine at Humber Street Sesh.
1884 Wine & Tapas Bar will add a bit of polish to the proceedings by welcoming quinTalos, a five-piece from the East Riding of Yorkshire Band, to entertain guests at the annual music festival on Saturday 5 August.
The restaurant will also hold a warm-up event for diners on Friday 21 July and is already looking ahead to staging a "Proms by the Marina" party in September.
The East Riding of Yorkshire Band was formed in the late 1980s and quinTalos emerged in 2015 at the request of a friend of trombone player Adam Gallimore.
Adam said: "He wanted a brass band to play at his wedding but there wasn't enough room for all of us – we normally have 25 brass plus three on percussion. We condensed it to a quintet and we've been quite busy, fitting performances in between the bookings for the main band."
Deborah Spicer, Director of 1884 Wine & Tapas Bar, came across quinTalos after looking for something different to contribute to the restaurant's Humber Street Sesh party. She has signed them up to play a selection of pop favourites and songs from the musicals – with special emphasis on West Side Story.
Deborah said: "We're outside the perimeter of Humber Street Sesh but we're always really busy with people who come down to the Marina for the music – last year there was a hen party in our al fresco area!
"We wanted to come up with some entertainment that's a bit different from the rest. We also wanted to remind people that there is more to the Marina than the hustle and bustle on the eastern side – we've got our own west side story, and we'll be putting it to music!
"Hopefully the weather will be as beautiful as it was for last year's Humber Street Sesh but if it's wet quinTalos can play indoors, as they will when they entertain our diners on Friday 21 July. We're now working on finding the best date for an evening or afternoon in September to present some songs from the Proms, and we've got plenty more ideas to trumpet the talents of the band!"
Adam added: "We've done a few garden parties, nice weddings and civic events but we've never played at a nice restaurant like this before. We've heard great things about 1884 Wine & Tapas Bar and we're really looking forward to entertaining their guests."