Willerby crowned UK's most sustainable manufacturer in prestigious awards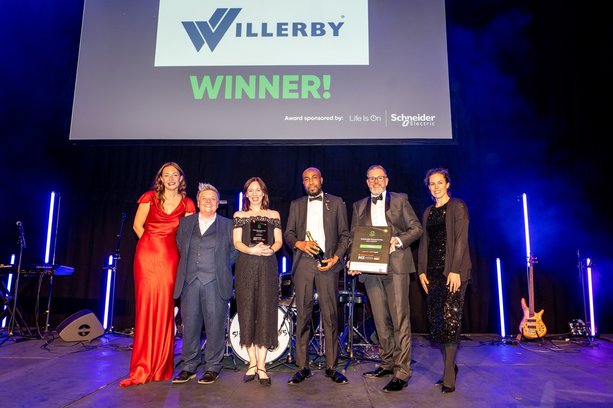 HULL-based Willerby won the Sustainable Manufacturing Award in The Manufacturer MX Awards 2023 – widely recognised as the "Oscars" of manufacturing.
The awards are run by The Manufacturer, the UK's leading publication focused on manufacturing, in partnership with the Institute of Mechanical Engineers (IMechE).
They are the only peer-reviewed and judged awards of their kind for UK manufacturing.
The accolade for Willerby recognises how the business is leading the way in a major UK manufacturing industry by putting sustainability at the heart of all its product development and operational activities.
Willerby CEO Peter Munk said: "We're incredibly proud to have won such a prestigious national award, recognising the very significant strides we've made in our sustainability journey.
"We fully accept our responsibility, as a major UK manufacturer, to lead by example in the drive to a net zero economy and that's why we prioritise sustainability in everything we do.
"We've introduced major product innovations, to make Willerby holiday homes the most energy-efficient and sustainable in the industry, as well as making substantial changes in our manufacturing and other operations to reduce our carbon footprint.
"We're also working very closely with our customers, partners and suppliers to support their own efforts to drive down their environmental impact.
"We're ambitious to go much further, but this award is a fantastic tribute to the progress we've made to date."
Willerby is the UK's largest manufacturer of static caravans and lodges, building one in three of all holiday homes produced annually.
Industry-leading product innovations include the pioneering Willerby GreEN Standard – the first sustainability standard launched by any holiday homes manufacturer and the sector's only green build specification.
The company has also introduced the Willerby All-E all-electric specification – hailed as a green game-changer for the holiday homes industry, as it enables Willerby models powered solely by electricity to be sited on the majority of UK holiday parks, reducing reliance on liquid petroleum gas (LPG).
As well as product developments promoting sustainability, Willerby has introduced a raft of green initiatives across the business.
The company has installed biomass boilers to heat production facilities at its Hull site, is introducing LED lighting and movement sensors, and has added solar panels to the roof of its main offices. Willerby has also migrated its full company car fleet to hybrid and electric vehicles, supported by an on-site EV charging network.
Last year Willerby marked Earth Day by issuing refillable water bottles to every member of its 1,200-strong workforce. The move eliminated single use plastic consumption at water stations and saves around 200,000 plastic cups being used annually.
This year Willerby become the first manufacturer in the sector to publish its first annual Sustainability Report, detailing the extensive measures the business has taken to cut carbon emissions and work with its partners to pave the way to a green future for the holiday homes industry.
Sue Allan, Willerby's Chief Financial Officer and Sustainability Champion, said: "We've taken sustainability to new levels within the business and put ourselves at the forefront of our industry in the pursuit of environmental excellence.
"We're committed to continuing to build on this, year on year, and to detailing this progress through our annual Sustainability Report.
"This prestigious award is a credit to the outstanding people and teams throughout our business, who are fully invested in our sustainability mission."
Only 40 of Britain's top manufacturing companies made it through to the finals of The Manufacturer MX Awards 2023, with the finalists receiving a site visit enabling the judges to gather first-hand evidence of each award entry in action.
The winners were announced at a glittering ceremony and gala dinner at The Exhibition Centre in Liverpool, attended by 500 industry leaders.
Grace Gilling, Managing Director of The Manufacturer, said: "The exceptional achievements of the winners reflect their dedication and adherence to manufacturing excellence.
"Our rigorous judging process involves peer-reviewed category criteria, ensuring that finalists are evaluated against the highest benchmarks.
"The fierce competition among these outstanding finalists underscores the remarkable calibre of companies represented across the entire spectrum of UK manufacturing."