Newcomers add to array of delightful dishes at Hull Street Food Nights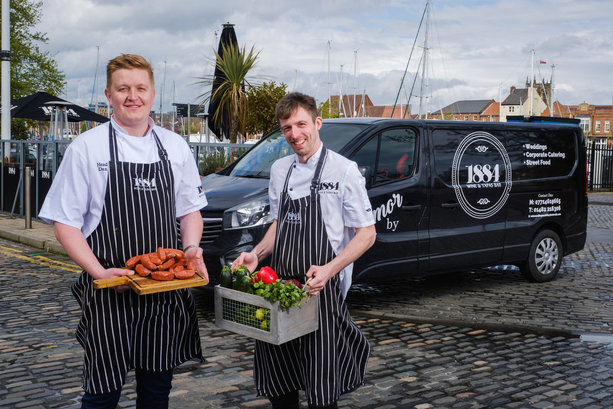 HULL Street Food Nights return on Thursday with an award-winning restaurant bringing its selection of fine food for the first time and eager to emulate the success of another recent arrival.
It will be business as usual for 1884 Wine and Tapas Bar at the side of Hull Marina, but the restaurant will also be sending several team members to staff the ice cream tricycle and the outdoor kitchen which will be operating in Zebedee's Yard under the Amor 1884 banner.
Also taking part, having made their Hull Street Food Nights debut in April, will be Nibble, which opened two years ago in Queen Street, Hull, and has enjoyed sell-out success with its street food selection.
Deborah Spicer, Director of 1884 Wine and Tapas Bar recently unveiled the mobile dining service which was set up partly to meet demand from customers in the restaurant and partly to take part in Hull Street Food Nights.
She said: "We launched the tricycle service last summer and did very well pedalling to various events around the city centre. Ever since Hull Street Food Nights started we have wanted to take part, but only if we could do it to the standard that everyone else is achieving.
"We've put a lot of effort and investment into bringing in new equipment and making sure we have the staff to cover the restaurant and Zebedee's Yard at the same time, and we're looking forward to joining the crowds and bringing something a bit different."
The 1884 Wine and Tapas Bar menu will feature favourite ingredients from the menu which have been given a street food twist, including pork fillet rubbed in paprika and coriander with a chorizo and roasted red pepper slaw, and Bridlington crab rice balls with ginger, chilli and lime in a panko crumb with fresh coriander salad.
Anna Lamb, owner of Nibble, said: "Our gourmet burgers have been very popular and this week we'll be serving a slow-roasted brisket sandwich and our dragon bowls – six different salad options including leaf, lentils and other pulses served with skewers of lamb kofte and other meats as well as vegetarian options. Lovely fresh, colourful dishes!
"We saw Hull Street Food Nights last year and we thought it was a fantastic way to support the city's food businesses. I approached HullBID and they were massively supportive so we invested to make sure we could do it.
"We made a great start in April and in May we sold out. One thing I noticed last year was that City of Culture was encouraging people to come out. It's great to see that Hull Street Food Nights are still here, giving them somewhere to go straight after work."
Since the May event, HullBID has added the Outstanding Contribution to Food and Drink prize in the Hull Daily Mail Food and Drink Awards to its Remarkable East Yorkshire Tourism Award (REYTA) for Remarkable Small Tourism Event.
Both awards recognised the success of Hull Street Food Nights, and the BID is now building on that with the new Hull Trinity Farmers' Market and with plans to extend this year's Yum! Festival of Food and Drink to three days.
Kathryn Shillito, HullBID City Centre Manager, said: "Hull Street Food Nights got off to a phenomenal start last year and remain very popular with people heading into the city centre after work and with city centre workers staying around instead of just heading home.
"Our aim is always to bring the quality and variety and that's why we were delighted to welcome Nibble and now 1884 Wine and Tapas Bar. They both have reputations for fantastic food, which will add to the appeal of Hull Street Food Nights, hopefully attracting more people to support the bars and restaurants in the city centre."
After Thursday, Hull Street Food Nights will continue in Zebedee's Yard and Princes Dock Street Thursday 12 July, Thursday 2 August and Thursday 6 September, opening from 4pm until 9pm.
Hull Trinity Farmers' Market will take place on Saturday 30 June, Saturday 28 July, Saturday 25 August and Saturday 29 September. Each event will take place from 11am until 4pm.
The Yum! Festival of Food and Drink will this year be extended to three days and will take place in the Rosebowl and Queens Gardens from Friday 10 August until Sunday 12 August.
For further details of Hull Street Food Nights, Hull Farmers' Market and the Yum! Festival please visit www.hullbid.co.uk