Icelandic Ambassador's visit to the Humber's seafood 'Silicon Valley'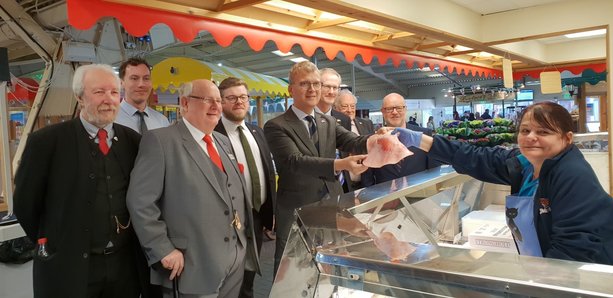 THE UK's Icelandic Ambassador is keen to further post-Brexit links between his country and Grimsby, a town he badges as the 'Silicon Valley of the UK's seafood processing sector'.
Speaking during a working visit to the town, His Excellency Mr Stefán Haukur Jóhannesson used media interviews and a series of meetings with politicians and industry representatives to highlight the close relationship that already exists between his country and the South Humber bank, and how post-Brexit talks would hopefully secure these even further.
"We enjoy a robust and dynamic relationship with Grimsby and the Humber, and we look forward to forging new relationships and exploring new trading opportunities with the UK," said Stefán.
Using the Brexit transition period to investigate the future relationship, he said: "While of course there are always challenges and while still in the early stages, we are convinced that there are opportunities."
The Ambassador was joined for the duration of the visit by the Humber's Icelandic Consul, Grimsby-based Jonathan Goolden. A Partner at Wilkin Chapman solicitors, Jonathan invited Stefán to his firm's Cartergate headquarters at the start of a busy day, which included talks with sector leaders and politicians.
A lunchtime meeting with Greater Grimsby and Cleethorpes MPs, Lia Nici and Martin Vickers, was held at the Freeman Street hub, with a visit to the Market where traders sell Icelandic produce. There followed an afternoon at Grimsby Town Hall with leading North East Lincolnshire councillors and the Chief Executive of the Humber Local Enterprise Partnership Kishor Tailor.
With 10,000 tonnes of Icelandic fish handled at Grimsby Fish Market in 2019, the need to maintain and improve relations was evident, added Stefán.
"The reason for our visit is to listen to the perspective of the companies and our trading partners in this, the Silicon Valley of seafood processing, about what are their challenges, and what opportunities do they see in improving the links between Iceland and the UK, particular within Grimsby and the Humber.
"During our talks it is clear that the businesses here are very much aware that things are changing and aware of the need to negotiate for the future and how we are able to use this new chapter in a positive way," he said.
Prior to the day's visits, Stefán had been a guest at The Grimsby Institute's Gallery restaurant where a dinner, themed 'Icelandic Fish, Made Great in Grimsby' had been held with sector representatives.
Thanking all involved, the local consulate Jonathan Goolden added: "The links between Grimsby and the Humber, and Iceland go back many years and I was delighted to be involved in facilitating a visit which has allowed us all to explore and understand what the future may hold. The Ambassador is quite right when he describes Grimsby as the 'Silicon Valley' of seafood processing."