Hull and Scarborough bus drivers star in new video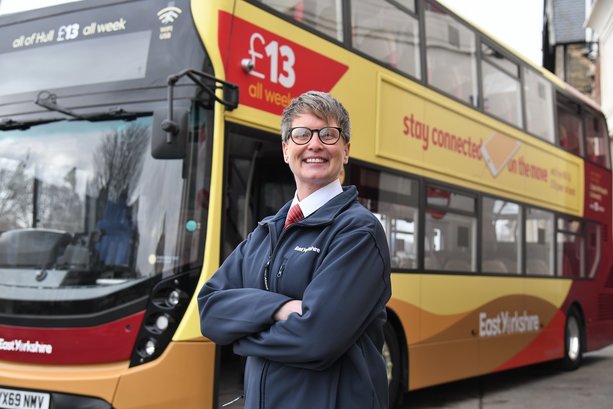 DRIVERS from bus company East Yorkshire star in a new recruitment video, aimed at encouraging people to consider a career in bus driving.
The video, which was filmed in Hull and Scarborough, shows bus drivers talking about their backgrounds, what they love about the job, and who they think would make a good bus driver – as well as addressing the issue of why bus drivers always wave at each other!
The video aims to give an insight into the lives and previous jobs of current bus drivers, and shows that you don't need to have ever driven a bus before to apply. The drivers featured in the video had a wide range of previous experience before they became bus drivers, including working in retail, in sales, as a postman and being a stay-at-home mum.
Bus company East Yorkshire employs around 650 people, with the majority of these being bus drivers. As demand for travels rises in the region, the company is taking on more staff, and is currently recruiting for trainee and experienced drivers in locations including Hull, Scarborough, Pocklington and Withernsea.
The video also highlights the benefits of becoming a bus driver, with one driver describing the team as being "one big happy family".
Hull-based bus driver Julie McCaffer, who stars in the video, said she really enjoyed taking part. "I'd never done something like this before, so I was a bit nervous, but we had a great time making the video and the film crew made us feel like we could be ourselves. There was a lot of laughter behind the scenes! We were surprised that people would be interested in our jobs, but the video has had a great reaction so far. Becoming a bus driver is one of the best things I've ever done, as I get to work in a job I love and make some great friends, so I'd be delighted if we can help encourage more people to consider a career in bus driving."
The video can be viewed on the East Yorkshire Buses website, YouTube page or social media, and people interested in becoming a bus driver can find out more and apply at www.eastyorkshirebuses.co.uk/jobs
The new video comes hot on the heels of East Yorkshire being featured in the BBC TV series 'Dom Digs In', which featured television presenter Dominic Littlewood finding out what it takes to run a bus company. The 'Buses' episode of Dom Digs In can be watched now on the BBC iPlayer.
Attached is a photo of Hull bus driver Julie McCaffer, who is quoted in the article.
The video can be viewed here: https://youtu.be/qBomPBNthp0