Hobson & Porter delivers hi-tech show home with technology to transform lives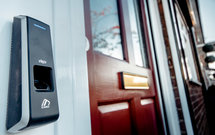 HULL-BASED construction firm Hobson & Porter has delivered a unique scheme on behalf of Hull City Council, which showcases a range of assistive technology designed to enable people with learning difficulties to stay safe, secure and independent in and around their own homes.
The equipment was premiered at a newly opened show home in east Hull during several open days in November 2017. Visitors were invited to sample the technologies and were accompanied by family members, carers or social workers.
Hobson & Porter provided a full interior fit-out of the two-bedroomed former residential building, including a full scope of mechanical and electrical works, heating, rewiring, furnishing and decoration of the property.
The firm also installed a range of state-of-the-art equipment at the show home, including finger print door entry screens, visitor cameras, and detectors which send out alerts for help in instances such as falling out of bed, flooding, and the potential hazards of smoke, heat and carbon monoxide.
Controls were also fitted to manage bathroom overflow, digital heating, operating appliances, opening and closing of windows and switching lights on and off.
All alerts generated by the technology are directed to Hull City Council's Lifeline telecare system, so that in the event of an emergency the relevant services are contacted, and help is provided as quickly as possible.
The Lifeline centre is the hub of the show home and is able to learn the daily habits of inhabitants to decipher whether they are safe or not. It is also able to monitor any electrical appliance that uses more than 400 watts of electricity.
Jon Craven, Hobson & Porter's Minor Works Director, oversaw the completion of the project. He said: "This was a unique and interesting scheme for Hobson & Porter to be part of, and demonstrates the wide range of in-house skills we can utilise to deliver minor works projects. It was the first kind of assistive living show home to be developed in the area and we believe it may be one of the first whole house show rooms in the entire country.
"Delivering the project was fascinating and at times challenging because the concept of whole house assistive technology is a relatively new concept. It is amazing and very satisfying to be part of something that can improve people's quality of life so radically by linking smart systems to control simple, everyday activities."
The project was agreed following Hull City Council's successful £1.2 million bid to the Department of Health, to purchase the technology. The funding the council received allows for adaptations to be made in existing homes and for equipment to be installed in up to ten empty council homes and in up to ten new build homes. Hobson & Porter will continue its work with the council after being contracted to fit the equipment in several residential care homes across Hull.
Cllr Gwen Lunn, Hull City Council's Portfolio Holder for Adult Social Care said: "We are currently making huge changes within the adult social care system, all of which are intended to provide people with the best possible opportunities to live well and live independently for as long as possible. With this funding we will invest in the very latest technologies to support people in an independent lifestyle. Furthermore, our housing stock will be significantly improved in terms of its ability to cater for people with a range of needs. "Enabling people to remain independent in their own homes will result in fewer people entering residential care, which will have a financial impact on the adult social care budget. In Hull, like all councils nationwide, meeting the ever-increasing demands for adult social care is an enormous challenge, therefore the savings we can make by installing assistive technology can be spent on other front-line care services."