Deep breathwork session helps business leaders combat stress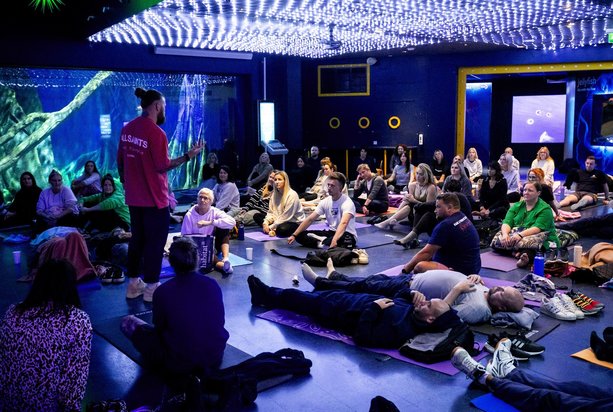 THE Deep in Hull partnered with the organisers by providing the venue, with its calming atmosphere considered ideal for the immersive experience led by resilience coach and mental health advocate Josh Connolly.
Participants were guided through a series of breathing exercises to promote relaxation and enable recall of people and events from their distant past, triggering tears and sobs among some, followed by a scream of release.
Afterwards they told how much they enjoyed the experience and are looking forward to applying the technique as they tackle the stress in life and at work.
Martin Stead, who spent 30 years in construction and facilities management before setting up Loom Consultancy earlier this year, said: "Anything that helps people stay fit and well mentally and emotionally can only be a good thing and this is another tool to help that. The general mood was that we didn't really know what we had let ourselves in for, but I would go back and I would recommend it to others."
Felicity King, director of development at recruitment specialist Edwards & Pearce, said: "It was a wonderfully valuable evening! Twelve years ago I found myself in a life or death situation. If it wasn't for the breathwork skills I had learnt, I wouldn't be here today. It's a tool I share in all aspects of my client work and is so beneficial for purpose, performance and all round happiness."
The feedback was typical of other participants in Breathe to Succeed: Empowering You to Thrive in Life & Business, which raised awareness of the increasingly popular technique and also raised funds for Andy's Man Club and the National Association for the Children of Alcoholics.
Josh, a certified breathwork coach, said: "It's a growing practice and we are probably at the stage now where yoga was 10 or 15 years ago."
Josh had previously delivered resilience sessions to business audiences in Hull and he was invited back to the city by Ed Jenneson, a Hull-based partner at Gunnercooke LLP, and Leon McQuade, co-founder of cyber-security specialist Think Cloud and a trustee of Andy's Man Club, after they discussed the practice in The Hack podcast.
The participants each found a space to unroll their yoga mats and lie on the floor of The Deep while Josh walked among them and led the session, starting by advising them that they could leave at any point. They all stayed.
Josh said: "It's been around since the beginning of time. I came across it through trying to do meditation. A lot of people were saying they couldn't concentrate on it because there was so much going on in their head.
"People really have to be shut off from the chatter of their mind. Breathwork brings you down into your body so you are not thinking, thinking, thinking all the time. I always aim to use an interesting venue because you are trying to create an experience. The music, the venue and the lighting all play a part.
"All we got people to do was to breathe in and out in a certain way and I talk in a language they understand. It's a different experience, it's not unlike drinking together to break down inhibitions, although I haven't had a drink for nearly 12 years. One of the big things is the shared experience, bringing everybody together. We finished with a room full of raw emotion and disbelief. Then I got a queue of people telling me they didn't expect that to happen."
Leon said: "I took eight members of our team at Think Cloud and we have been talking about it ever since. Businesses are interested in breathwork because these practices help leaders become more self-controlled, compassionate, focused under pressure, flexible, and inspiring. Emotional and stress regulation capacities are foundational to mindful, discerning leadership that brings out the best in people."
Ed added: "Breathing exercises are an amazing tool and doing them in a group is particularly special. When I arrived there I was tired but by the end my energy had completely changed and that just came from witnessing the experiences of others. The feedback I have had is that people didn't think it would work for them or didn't know what to expect, but they had some very powerful experiences."
Freya Cross, Head of Business and Corporate at The Deep, said the hope is that further breathwork events will take place during 2024.
She said: "We've had all sorts of events at The Deep from Children in Need to the FA Cup draw but this was a first for us. One participant said they would normally have to travel to London for this sort of experience, and they thanked us for helping to bring it to Hull.
"The view was that the calm, relaxing environment was perfect for the mood which Josh was trying to achieve. Most of the participants were people from businesses in the region and it was clear that they experienced a great sense of release and renewal as they escaped the stresses which they encounter almost daily."
Ends.
Picture details
Breathwork 1 and 2 show Josh Connolly walking between the participants in The Deep and taking them through the breathwork techniques.
Breathwork 3 and 4 show some of the participants during the event.
All participants were advised from the outset that there would be film and photography and they agreed to images being published.