Cucina 1884 brings in top team as it counts down to opening date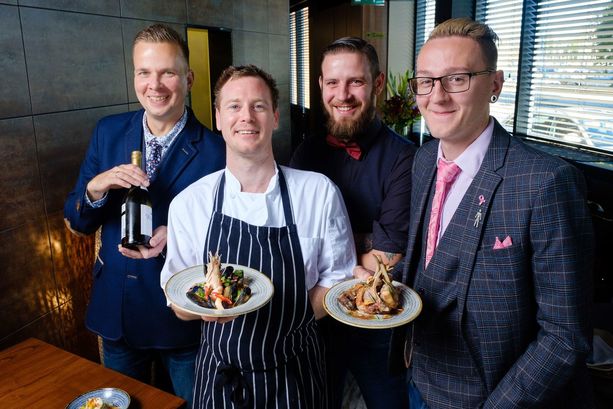 A HOTLY-ANTICPATED new restaurant is counting down to a launch night next month with a top team of culinary recruits.
Cucina 1884 will bring a mix of classic and contemporary Italian cuisine to the centre of Hessle with almost all of the staff hand-picked from the multi award-winning 1884 Dock Street Kitchen, which closed during the summer.
Jane Cook, Director of the new restaurant on the corner of Ferriby Road, announced plans to create 15 jobs. Nine of those have now been filled with people who helped 1884 Dock Street Kitchen secure an array of awards and national media accolades. A handful of opportunities remain for people who want to join the Cucina 1884 crew and learn from the best.
Mark Langton, who spent five years at Dock Street Kitchen and became the Sous Chef, takes up the role of Head Chef and brings experience of a similar position at The Wilson Gastrobar – now 1884 Wine and Tapas Bar – and of a spell at the Michelin-starred Chez Bruce in London.
He said: "I have worked in restaurants for about 12 years. I started working in the bar at Hull Truck Theatre, helped out with the pots in the kitchen and then moved on to work in some fantastic restaurants.
"Cucina 1884 is completely different from anything I've done before. I have been so used to English fine dining and this is a learning curve but we will hit the same high standards. We will be as authentic as possible and go beyond the usual dishes that you can find anywhere. There will be a few classics and a lot of differences. We have carried out in-depth research into different pastas and flours, dishes from different regions of Italy and a variety of flavour combinations.
"My ambition is to have my own restaurant and becoming head chef of Cucina 1884 takes me a step closer to fulfilling that dream."
Matti Kiviniemi, Restaurant Manager at Dock Street Kitchen, is the Front of House Manager at Cucina 1884.
He said: "I am really excited about Cucina 1884. It's a different style of restaurant compared to Dock Street Kitchen or anywhere else. There's a more relaxed approach to service and the counter concept, which is unique in this area, will bring more interaction between the chefs and the diners. It's also a more compact space which will enable us to give a more personal service.
"The people coming with us from Dock Street Kitchen are great guys. It's been an absolute pleasure working with them over the years. I've known Mark for four or five years and he's a great chef."
Cucina 1884 is planning a soft, invitation-only launch late next month before opening its doors to the public in early November in anticipation of a rush of Christmas bookings. Mark and Matti were joined by former Dock Street Kitchen colleagues Chris Rust, the Bar Manager at Cucina 1884, and Steve Morse, the new Deputy Manager, to try out some of the new dishes in the kitchen of sister restaurant 1884 Wine and Tapas Bar.
Jane said: "People are telling us they can't wait for Cucina 1884 to open. Hessle needs something like this and there has been a lot of interest – more than I thought there would be.
"The menus are finished and are very different from the norm. It's not Anglicised Italian food. There will be seasonal, fresh ingredients with Italian meats and cheeses, home-made pasta and home-made dough for the wood-fired pizzas.
"We are still looking for another commis chef, a part-time commis chef and a chef de partie. They will be joining people who have worked together for a long time. It's not just a job, it's a career, and at Cucina 1884 it's like a family."
To find out more about the remaining vacancies and about Christmas bookings email Jane at info@cucina1884.co.uk