College bids farewell to dedicated Vice Principal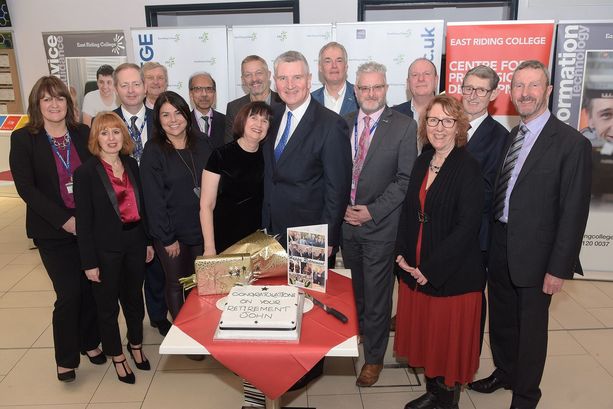 EAST Riding College bid a fond farewell to its long-serving Vice-Principal. Exactly a year after former principal Derek Branton retired, the governors, staff and invited guests said their goodbyes to Vice Principal John Doris, signifying the end of an era. After 24 years' involvement with the College – both as a governor and a member of the senior leadership team – Mr Doris leaves a distinct legacy, not least in terms of the development of two new campuses and the funding that the College has attracted to support the development of skills within the region.
Mr Doris joined the College as a governor whilst working at Hodgson Chemicals, which occupied the Flemingate site on which the College's Beverley campus now sits. In fact, his current office is only yards from where his original Hodgson's office was when he first came to work at the Beverley factory in 1992.
Simon Wright, Chair of Governors at East Riding College, said, "I truly believe that John's experience as a governor was his strength. His career in FE has benefited literally tens of thousands of learners, all local people, young and old. Colleges need effective leaders, and John is certainly one of those."
Mike Welsh, who joined as Principal and Chief Executive of the College in January 2018 said, "It's a reflection of the high esteem in which John is held that so many staff, governors, fellows, ex-chairs of governors, former principals and business leaders from across the East Riding were in attendance at his retirement celebration. This says something quite profound about the culture of the College and that is just part of John's significant legacy. He is renowned for his kindness and generosity of spirit. His team describe him as an inspirational boss, a mentor and a real team player. He is ambitious for the College, its staff and our students, and above all, the wider business community and the people of the East Riding and the Humber region. It's very much in that spirit that John has been the face of East Riding College and our regional ambassador with business leaders."
Former Principal and Fellow of the College, Derek Branton was also in attendance and said, "Of all the people I worked with over the years I never worked with anyone as dedicated as John. He was absolutely committed to doing a fantastic job for the College. What we achieved during my time as Principal would have been greatly diminished without him."
Mr Doris said, "It's with mixed emotions that I leave the College. I will miss the buzz and the camaraderie of the colleagues that I work with. Hopefully I can support the College in the future, it is a tremendous college and the culture is second to none. I have absolutely no doubt that despite all the changes that we have gone through and that the FE sector will go through in the future, that this college and its staff are really well placed to take advantage of it."