Britcom launch local charity of the year initiative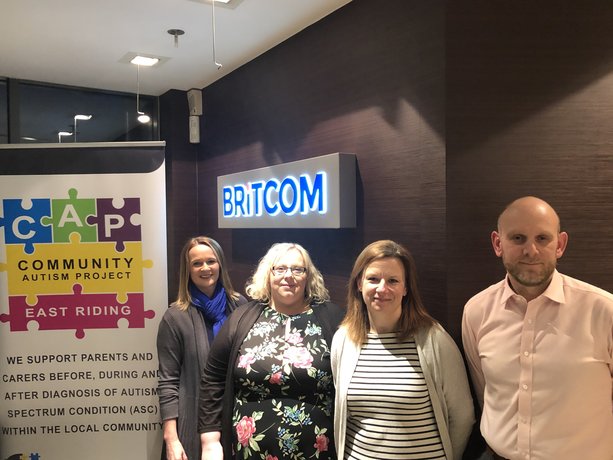 WE are delighted to announce a new initiative for 2020 at Britcom - Charity Of The Year.
Britcom regularly support and have ongoing sponsorship deals with various groups and clubs in the Market Weighton and surrounding areas and these will continue.
Chris Urwin, Joint MD for Britcom explained, "Following our recent fundraising for Market Weighton School defibrillator fund, the Britcom staff wanted to do more regular fundraising to help a very small local charity where they could make a real difference. And so Charity Of The Year was born."
Our inaugural Charity Of The Year 2020 is the Community Autism Project East Riding based in Market Weighton. Formed by a group of local parents and professionals with an interest in Autistic Spectrum Conditions, they share a common desire to help make life easier for individuals with autism and their families and support them before, during and after a diagnosis.
One of the key initiatives the Charity offers is regular drop in coffee mornings where parents and carers can go and discuss their situations and share advice with people who have experience of Autism themselves - or just pop in for a chat! The coffee mornings run every Friday and are open to anyone who wants to learn more about CAP or support them.
Rachel Reed, Marketing Manager for Britcom commented: "The charity is run solely by volunteers; the Britcom staff feel that across the year we can really help make quite a difference to them through our fundraising activities. We've already started putting money in the pot with our first dress down day of the year held at the end of January."
Marie, President of Community Autism Project East Riding said "We were delighted to be approached by Britcom and be their first Charity Of The Year. We are a small local charity and Britcom's fundraising and their help to increase awareness of us, our support groups and coffee mornings will help us tremendously throughout the year. They are going to help us spread the word and reach out to more parents and carers who need our support before, during and after an ASC diagnosis."
Marie added "We are also looking for more volunteers; we are a growing charity and can only continue to add quality support by having more hands-on deck. So if you feel you can help, please get in touch with me at mwareaautismsg@gmail.com".
Visit http://communityautismproject.org/ or follow on Facebook at Community Autism Project – Market Weighton to find out more about how the team can help.
k