£3-million, 124-tonne crane lifts DFDS Immingham investment in 2019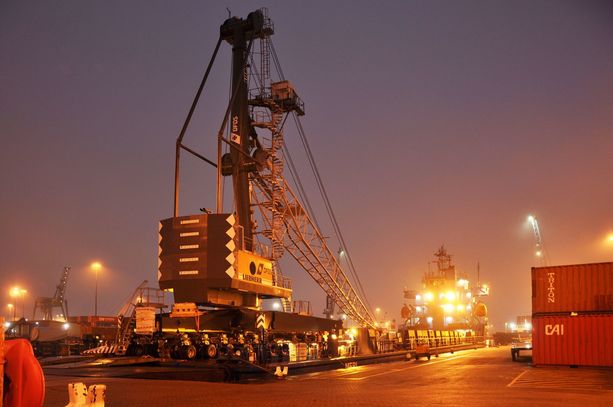 The arrival of a new 124 tonne Liebherr Mobile harbour crane in the last working days of 2018 is another piece of the investment jigsaw at the port for DFDS, hot on the heels of the announcement of enhanced DFDS liner services between Immingham / Norway / Belgium at the start of 2019.

The new harbour crane's high-capacity twin-lift container spreader enhances the Terminal's lift on / lift off container operations, project cargo and break-bulk cargo handling.
The crane will start cargo handling in the New Year.
DFDS Terminal Director Alan Finch said, "The new Liebherr LMH 420 crane will operate in conjunction with our existing Gottwald crane to maximise the lifespan of the older equipment; working in consecutive dual activities to enhance customer co-operation and flexibility and eliminating the need for additional crane hire."
"With overall capacity of 124 tonnes under the hook and with a 48-metre boom, the new DFDS crane increases capacity on DFDS Dockside Terminal whilst maintaining cycle times. It also hoists lifting capability across the entire Immingham Dock Estate to a new level."
The specification and choice of manufacturer were carefully considered, taking account of DFDS needs to maintain current crane cycle times - given its greater lift capacity - as well as optimal running cost, operational longevity and optional external low-voltage electric power source. These factors will ensure operational efficiency, reliability, availability and meeting all Health and Safety legislation requirements are met.
Although classed as a mobile crane, the Liebherr LMH 420 will spend most of it's working life serving vessels at DFDS Dockside, the Immingham inner harbour operated by DFDS, which at the beginning of December handled the lifting of the Trafalgar Square Christmas Tree on it's way from Norway to London.
Alan added, "Immingham is well-located at the heart of the UK East coast, with excellent connections to the UK's major connurbations just a few hours from the Port. DFDS Dockside is a well-established facility for large project cargo and heavy lift imports and exports to all corners of the earth, either through specific "Project Type" conventional vessels or the DFDS Liner Service Network."
"With this significant investment we can lift even heavier cargoes for third party shippers with the flexibility of shorter lead times. Alongside heavy lift cargo, DFDS Dockside is also a hive of activity for a wide range of other lift-on / lift off commodities and units such as Steel, Containers and general Break Bulk cargo."
Andrew Byrne, Managing Director of DFDS Seaways PLC added, "The new £3 million crane is part of an exciting investment and expansion programme at Immingham. Despite the present global uncertainity we are growing our range of services and improving the experience for our customers. This crane is the embodiment of that programme and I know a number of our staff are really excited about the prospect of operating such a large and technologically advanced machine. The crane's arrival went to plan and whilst bad weather at sea delayed the crossing to Immingham, we are still on course to enhance our cargo handling from the beginning of 2019. Our plans include expanding our workforce and we have also aquired a bigger footprint on the dock to handle increased volumes of cargo."