e-zCert Export Documentation Workshop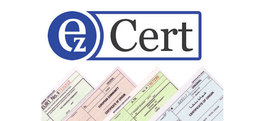 DESIGNED with efficiency and ease of use in mind, an increasing number of companies are finding it quicker and cheaper to process their export documentation online via the e-zCert system.
You can apply for Certificates of Origin (EC and Arab), EUR1s and ATRs online from the convenience of your office and receive the documents the next day (or same day if you choose express). You can also apply for the certification of other documents such as commercial invoices and packing lists.
We will be holding a half day training session (date to be confirmed) for anybody who wants to start doing their documentation online, or who would like to train new staff or who would simply like to brush up their skills and knowledge.
This session will cover everything you need to know and how to get started. Individual user queries will also be answered.
Benefits
Cost effective
Saves valuable time
No need to leave the office
Apply online anytime
Same day return of documents
Speed of application
Multiple users under one company account
Secure database
Neatly presented document
Excellent communication and support on hand
If you would like further details of this workshop and/or would like to attend, please email Lorraine Holt at l.holt@hull-humber-chamber.co.uk