Danish businesses descend on Hull as part of Green Port Hull trade mission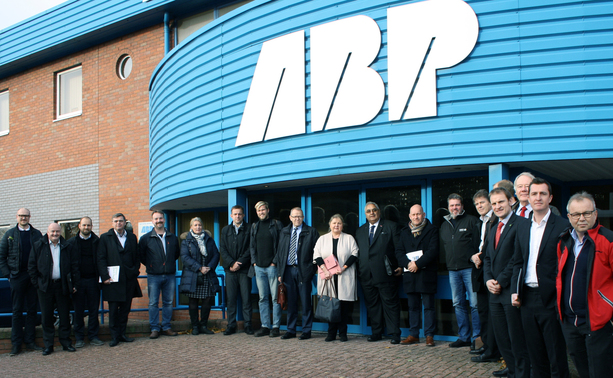 MORE than 20 businesses from Denmark visited Hull and the East Riding this week to help establish and strengthen networks across Europe between companies involved in the renewable energy sector supply chain.
Delegates arrived at Humberside Airport on Monday 23rd November on a plane chartered especially for the trip. They embarked on a tour of the Port of Hull, visiting the Green Port Hull site at Alexandra Dock, before heading to a networking dinner for companies involved in the renewables sector.
On Tuesday 24th November, the visitors took part in a business-to-business event, followed by a luncheon hosted by Councillor Anita Harrison, The Lord Mayor of Kingston upon Hull and Admiral of the Humber, before heading home.
The trade mission was organised by Green Port Hull, working in partnership with the Hull & Humber Chamber of Commerce.
Pauline Wade, Director of International Trade at the Hull & Humber Chamber of Commerce, comments:
"The purpose of the trade mission was to promote inward investment opportunities for Danish businesses at Green Port Hull and present potential joint venture and supply chain opportunities for businesses in Denmark and in Hull and the East Riding. Being able to show the delegation first-hand the development that is being made here was fantastic. They were also able to network with key contacts, building relationships that will be incredibly valuable to them.
"The visit was also beneficial to businesses here in our region. Our renewable energy industry is still in its infancy, but Denmark has been active in this sector for years. We can capitalise on the knowledge, expertise and standards achieved by them to make Hull and the East Riding a world-class leader in green energy."
Mariano Davies, President and CEO of the British Chamber of Commerce in Denmark, says:
"With the trade mission, we were hoping to bring various levels of the supply chain to East Yorkshire, to learn more about the Green Port Hull development and the potential for them here. Denmark has a vast renewables supply chain and the visit has enabled companies who can reap an immediate benefit from the Siemens investment to find out more."
One of the delegates was Christen Thygesen, a Project Manager at Force Technology, a leading technological consultancy company within energy, oil and gas, maritime, manufacturing, service and infrastructure sectors.
He comments:
"The visit has been very valuable to our business. We already work within the renewables supply chain in Denmark, so it's been interesting to learn more about the plans at Green Port Hull, and to discover opportunities to establish our services here and collaborate with UK businesses in this sector."
The trade mission comes shortly after the launch of a Green Port Hull business desk in Copenhagen in September, which is run by the British Chamber of Commerce in Denmark. The chambers engage with both Danish and UK businesses and act as a signpost for those that want to access supply chain opportunities with Green Port Hull.
To contact the Hull & Humber Chamber of Commerce regarding Green Port Hull opportunities, email greenporthull@hhchamber.co.uk
For more information about Green Port Hull, which is supported by the Regional Growth Fund, visit www.greenporthull.co.uk