Containerised freight rule changes weigh heavy on shipping industry, but fills room for World Trade @1, Myton Law seminar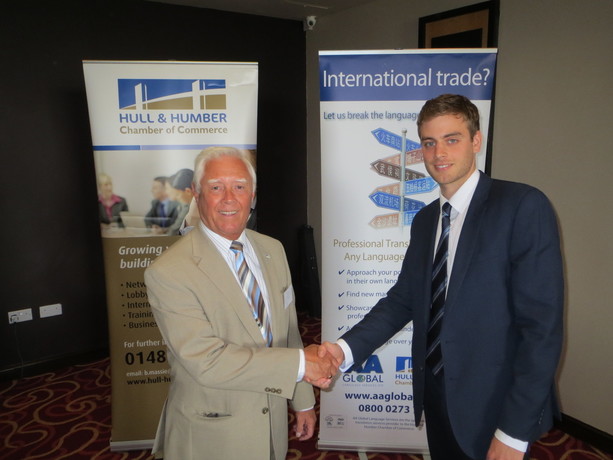 THE imminent changes to the rules around the weighing of containers which come into force on July 1 ensured a full house at a joint World Trade @ 1 and Myton Law event.
Held at the Hallmark Hotel, former Chamber President and North Sea ferry Captain, Russ Garbutt, explained why the Safety of Life at Sea regulations (Solas) are so important, before introducing Myton Law's Sam Minall, who gave a presentation outlining the new rules and explaining who will be responsible for ensuring the weights of containers are properly recorded and disclosed to shipping lines.
The new legislation will apply to all types of containerised ocean freight and will affect exporters, freight forwarders, hauliers, container operators and shipping lines.
Mr Minall said the key changes were that the obligations will be international, there is a set methodology for verifying the gross mass of containers and there is a requirement for the shipper to sign the gross mass declaration. The shipper will be held responsible if an inaccurate declaration is made which could result in a criminal prosecution.
However, there is an exception if a container is carried on a chassis or trailer which can be driven on and off a Ro-Ro ship engaged in short international voyages, but sea carriers may apply the requirements more widely, so it was advisable to talk to the carriers rather than assume the exception applies.
The amendment to Chapter VI of the SOLAS Convention, requiring the verification of the gross mass of packed containers, is being introduced following a number of high profile incidents where inaccurately declared container weights have been identified as a contributory factor of incidents at sea, most notably the MSC Napoli disaster in 2007, when the UK flagged container ship ran into difficulties in the English Channel.
Mr Minall said: "If operators fail to comply with this new regulation they may face criminal penalties. Failure to comply could also lead to significant commercial repercussions for shippers who fall foul of the requirements, with containers which are delivered at the port without the required documentation potentially being left on the quay, incurring storage charges, or weighed by the carrier at significant extra expense.
"Any weighbridges used to establish the weights of trailers would have to comply with the regulation requirements". The enforcement authority in the UK has indicated that they will be applying an enforcement "tolerance" of plus or minus five percent on the declared weight of a container and its actual weight.
Mr Minall also recommended that companies keep documents longer than the six-month period required by the regulations in case there were any queries which came to light at a later date.
He told the audience that they should communicate with their counterparts in the transport chain, and if they do that in good time, then it should be ok.
Commenting on the presentation, Serena Leonard and Alan Bates of Jotun Paints Europe Ltd, said: "These new regulations are going to bring delays and added costs. At the moment these costs are unknown and we don't know which port or terminal will charge so we don't know what to recharge to our customers".
More information on weighing of containers can be found here: https://www.gov.uk/government/publications/verification-of-the-gross-mass-of-packed-containers-by-sea
For specific legal advice, contact Myton Law on (01482) 485020.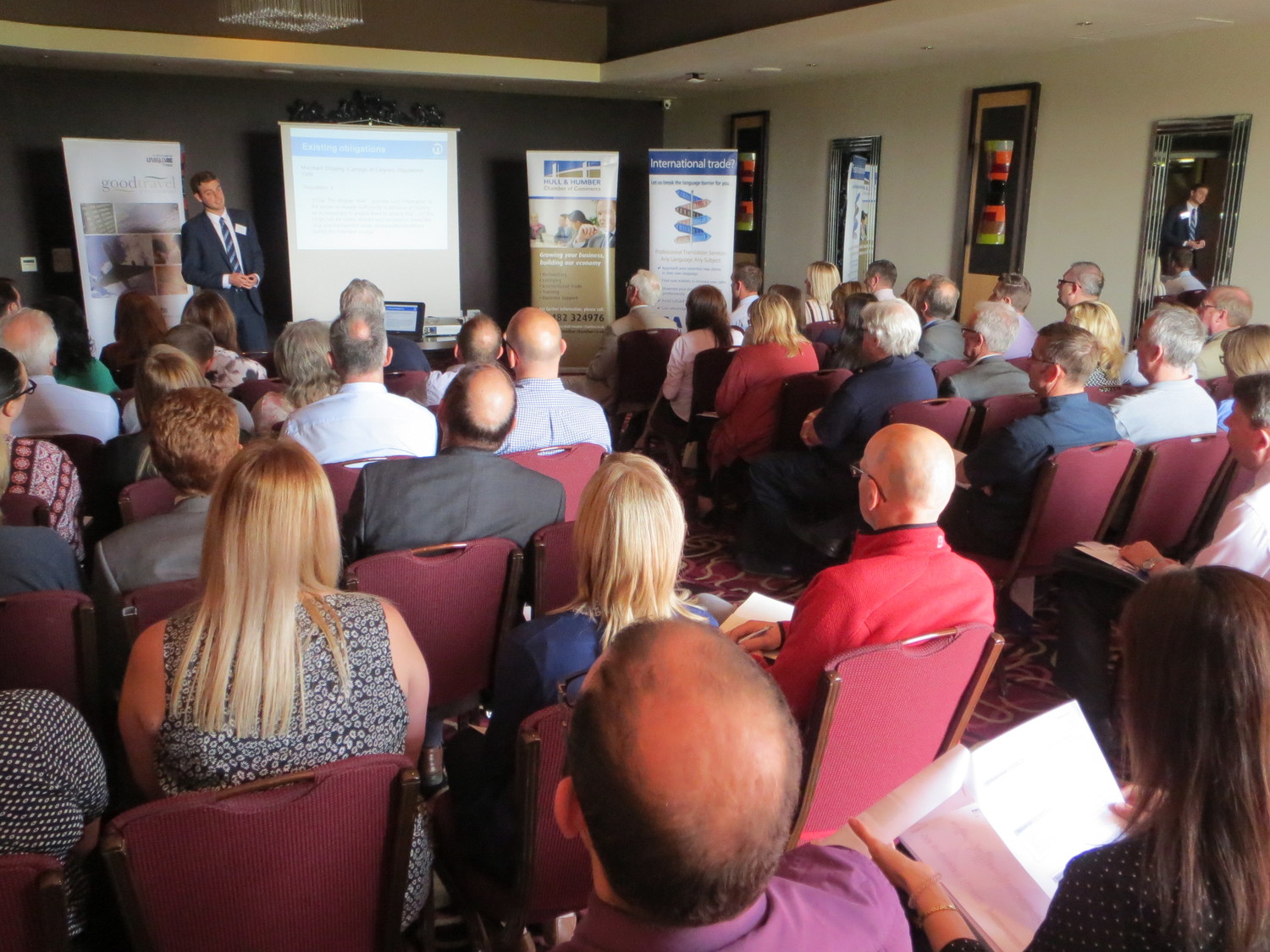 A packed room of shippers listen attentively to the presentation.