Customs Declarations Training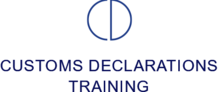 Are you ready to leave the European Union?
Are you a customs agent? Or does your company use customs agents and intermediaries to help you trade with the EU?
If so, you need to know how to meet customs requirements fast and efficiently after the UK leaves the EU. There will be new processes to follow and new forms to complete.
We can help.
Our training will highlight what you need to know to complete customs declarations accurately and efficiently.
LEARNING OBJECTIVES:
To give attendees basic working knowledge of how to complete the information needed for simple import and export customs declarations entries.
KEY LEARNING OUTCOMES:
Introduction to trade
Business responsibilities
Export process
Import Process
Valuation
Commodity codes
Customs procedures codes
Export and import controls
Reliefs
Preferences
Customs simplified procedures
Assessment: No formal exam will be taken however delegates will get to complete simulated forms to ensure they can complete simple customs declarations correctly.
COURSE OPTIONS:
Face to Face classroom courses (full day classroom delivery):
Please note there will be a 3 hours online learning that delegates are advised to complete before the course to get the most out of the day.
HHCC Members £280 + vat
Non-members £350 + vat
Online e-learning:
HHCC Members £190 + vat
Non-members £230 + vat
To book training, please click here or for further information, please contact Lorraine Holt at l.holt@hull-humber-chamber.co.uk
Customs support grant funding is available from HMRC with up to 100% of training cost covered. Please note the availability of this funding is limited and eligibility criteria applies. The deadline for applications has been extended to 30th June 2021. Please click here to find out more (https://www.customsintermediarygrant.co.uk/)