Transport for North boss admits 'I can feel frustration' of business leaders and MPs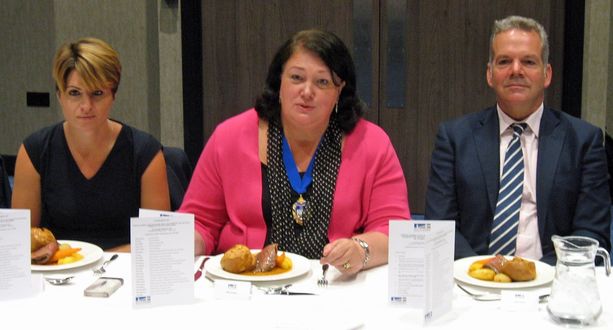 THE Chief Executive of Transport for the North, Barry White, today promised Chamber business leaders and Humber MPs to look with fresh eyes at the region's strategic rail and road concerns.
Chamber President Sally Booker, of P&O Ferries, chaired the warm, but full and frank discussions which saw Mr White admitting that he could feel the frustration at the unfair treatment businesses and other key stakeholders in the Humber are seeing and agreed to explore whether more could be done sooner to bring improvements. However, he emphasised that transport planning is a long-term project which would only bring notably better connectivity to the Humber region from 2024.
Today's event followed a meeting with Rail Minister Jo Johnson in Westminster earlier this year when he told business leaders and MPs that "you don't seem to be getting a very fair deal" following the downgrading of rail services to Leeds and Manchester by TransPennine Express.
The Chamber's Chief Executive Dr Ian Kelly urged Mr White and his team to take a fresh, strategic look at Hull getting a rail route into Manchester Airport – noting that one of Hull's key asks was for an express service to Manchester which continues to the North's hub airport.
Mr White also agreed to try to get to the bottom of the current trans-Pennine timetable issues which were introduced in May, noting that this week TransPennine Express had announced it was to drop two of the additional stops in December. It was pointed out that this would only get Hull back to where the city was before the May 20 timetable changes and that the Humber had actually gone backwards while other towns and cities in the Northern Powerhouse would eventually get improved, faster services.
In return, Mr White asked the business community to support Transport for the North's plans for Northern Powerhouse Rail (the Hullapool line), which it is hoped will run alongside HS2 and see journey times between Hull and Manchester cut to 1hr 15mins. That project will include the electrification of the line to Hull. Mr White said his team was working at "break-neck speed" to get those plans into Government by December and seek Treasury approval so work could begin straight away.
The Chamber, along with MPs Diana Johnson, Nic Dakin, Melanie Onn and Emma Hardy were supportive of Northern Powerhouse Rail, but hoped development work would start from the East first and ideally in the 2020s, not the 2030s. All Humber partners also wanted Transport for the North to get the powers it needs to deliver for this area but were more concerned immediately about the ability of TransPennine Express to run its current franchise adequately now.
Grimsby MP Melanie Onn highlighted with the support of all Humber partners that she would like to see some of the East Coast Main Line trains which will run to Lincoln from next year, continue up to Grimsby and Cleethorpes, and for the requirement to provide the service being written into the new East Coast franchise before it goes out to tender. It is currently being run by the Government under the LNER banner after Virgin Trains and Stagecoach handed it back.
Scunthorpe MP Nic Dakin highlighted that rail freight from Humber ports had to go via Birmingham to get to Liverpool, and upgrading the A15 would also help to relieve increasing pressure on the A180. Gareth Beese from British Steel's Scunthorpe plant added his voice to the debate, saying improvements to rail freight facilities were urgently required.
Lord Haskins, from the Humber LEP, a Transport for the North board member, agreed the rail industry was very complicated, but that more regular services will create their own volumes of passengers. He added that he was currently worried about the financial stability of other rail franchises.
Dr Kelly thanked Barry White and his team for coming to Hull and the Humber and listening to some robust but positive exchanges with business whose message was, we hoped, now very clear and consistent on transport issues across the patch.
All looked forward to future constructive dialogue.