Trains taking the strain as new services ease logistics challenges for DFDS and iPort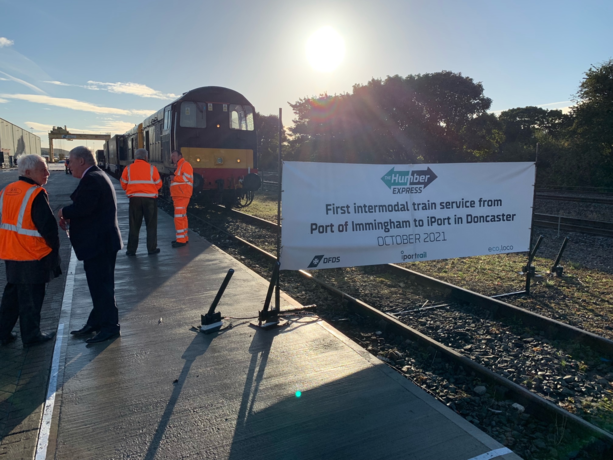 DFDS and iPort Rail today launched the Humber Express, the first intermodal train service delivering express freight from the Port of Immingham to iPort in Doncaster, a major distribution hub.
Dignitaries gathered to wave off the first train from DFDS Steel Terminal (on Friday Oct 22) which offers a seamless connection from quayside to railside, warehouse and beyond. Another major benefit is that it cuts down road haulage use and delivers freight to customers more quickly, easing the current supply chain issues and helping to ease the logistics challenges caused by the shortage of truck drivers.
Immingham is the fourth largest port in the UK, and its biggest challenge is logistics. The new service takes 22 containers on every train, with two trains a day taking 44 units off our road network – and there is the ability to scale up significantly as demand increases.
The managing director of iPort, Steve Freeman, said it had been a long journey to get to this point, but it was a huge step in the right direction and will help to ensure goods get to the shelves in time for Christmas.
He added that they were advocates of a greener future and had taken 37-million tons of CO2 off the roads in the last year - and there was huge interest from customers in this new service.