Theatre festival to open with play supported by business community and Chamber Culture Fund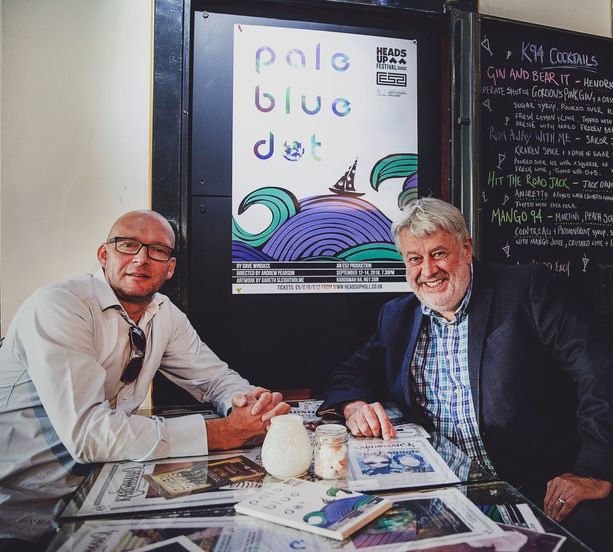 A THEATRE festival which opens in Hull next week is being backed by the region's business community as the first recipient of a donation from the Chamber Culture Fund.
Heads Up Festival takes place from Wednesday 12 September until Saturday 22 September at venues around the Hull area.
The opening production, Pale Blue Dot by the E52 theatre company, is supported by the fund, which was set up by the Hull and Humber Chamber of Commerce to mark its 180th anniversary year and Hull's year as UK City of Culture.
Pale Blue Dot, written by Dave Windass and directed by Andrew Pearson, was previewed during the summer at the Blue Dot Festival, Jodrell Bank.
It combines live performance, original music by The Broken Orchestra, animation and graphic novel artwork, the latter being created by illustrator and E52 collaborator Gareth Sleightholme.
It will be performed at Kardomah94 in Hull by Sarah Brignall and is set in a future when the next ice age is hitting Earth and humanity looks set for extinction. Only main character Aiko appears to have survived a series of catastrophic events and has set sail in a makeshift boat. She makes an unlikely friend in Toru.
Writer Dave Windass said: "The premise might sound somewhat grim – the end of the world, as we know it – but Aiko's journey sees her coming to terms with having to begin again and not repeating the mistakes of previous generations. Pale Blue Dot is, first and foremost, a piece of entertainment but there's a serious message at its heart. We're all really excited about bringing the show back to Hull."
The Chamber Culture Fund judging panel selected Pale Blue Dot for an award of £3,000 after reviewing more than 40 bids from across the Humber region. The next round of bidding will be announced in the coming weeks and Phil Ascough, the Chamber's Immediate Past President, said the hope is that businesses will play a part.
He said: "The Fund was only launched last year so it's still early days. It will grow in the years to come and we will be able to increase the value of the awards more quickly if we can get direct support from businesses.
"The number of bids we received indicates there is great demand for funding for the arts and culture in the Hull and Humber region. We know from having studied the bids that many of the projects are based on great ideas but the people behind them need money and expert guidance to develop their work.
"We urge more businesses to come on board, and to go along to Heads Up Festival to see some of the excellent work that is being produced in our region."
Director of E52, Andrew Pearson said: "Having the support of the Chamber has been invaluable for the development of Pale Blue Dot. Because of their generous funding we are now able to produce a short run of the show as part of the Heads Up Festival and be able to offer it to schools free of charge. Support from business – especially by local SMEs – is going to be vital for the continuation and growth of the arts in the city and region following City of Culture."
To find out more about the festival and Pale Blue Dot including how to book for any of the performances please visit www.headsuphull.co.uk
For information about sponsoring or applying to the Chamber Culture Fund please email Pail Ascough at president@hull-humber-chamber.co.uk