Shopping centre hosts celebration for Hull University 2019 graduates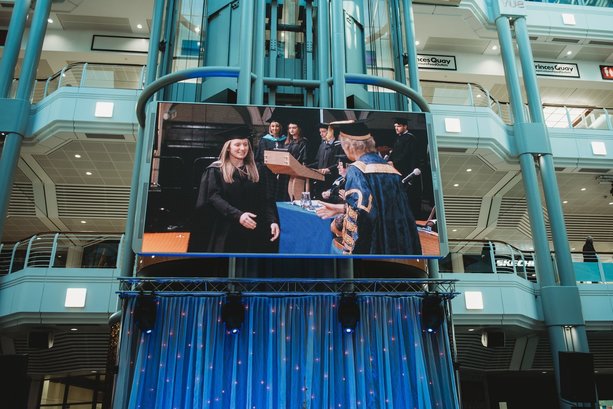 AS part of the University of Hull's graduation celebrations, Princes Quay are rolling out the red carpet, with live music, canapes and drinks this week.
Graduates and their families will be able to visit the shopping centre following ceremonies in the Bonus Arena and with an estimated 18,000 attending, it's going to be a busy week.
Guests of graduates who were unable to get tickets for the ceremony will have the opportunity to watch their loved ones on the big screen in the centre, with additional seating available.
Each graduate will be given a token for a complimentary drink, with food and beverage retailers from the shopping centre also offering snacks and canapes. A main stage will be home to live acoustic performers set to play throughout the day, with a smaller accompanying stage where students will be awarded various academic accolades from the University.
Princes Quay Manager, John Magee, said: "We're really looking forward to welcoming students and their families into the centre for such an important celebration. We're excited to be able to treat them and reward them for all their hard work and I hope many of them will continue to be Princes Quay customers long into the future.
"We also wanted their friends and family to be able to enjoy the day and watch the ceremonies if they were unable to get tickets – our big screen is perfect for this. As a large venue with plenty of food and drink offerings, graduates and their families will be able to grab a bite to eat before the ceremonies or go for a celebratory meal after."
Hull University staff and the Alumni team will be based in the shopping centre, providing goodies and advice for the duration of the event.
Jeni Weatherill, Alumni Engagement Officer said: "We're looking forward to retuning to Princes Quay for the summer graduation ceremonies as it's a great venue with lots of space for us to mingle with graduates. We'll be on hand to offer graduate advice and to ensure students keep in touch with the university. We also offer a mentoring platform where students can be matched with alumni in senior positions, so we'd urge all graduates to pay us a visit."
Students and guests will be able to take full advantage of the shopping centre's provisions and as one of Hull's best value parking facilities, the centre offers parking for as little as £2.
For more information visit: www.princesquay.com