Property developers scoop Lifetime Achievement Award at Goole & Howdenshire Business Awards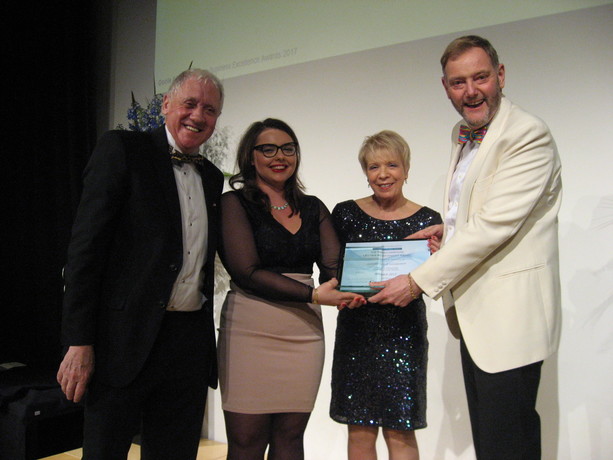 AN entrepreneurial Goole couple scooped the Tim Richardson Lifetime Achievement Award at a glittering awards evening.
The Goole & Howdenshire Business Awards were held at the Goole Academy, and property developers Howard and Julie Duckworth were thrilled with their honour. The couple who have made the town their home, have refurbished some of the most famous buildings in Goole and are the team behind the Lowther Hotel and the recently opened Coach House with its gin bar, among other projects.
Around 80 entries were submitted by 75 companies, another indication of the growing importance of the Awards which were attended by around 300 people.
The Overall Business of the Year Award went to Simply Track Ltd, who also won the Innovative Business Award, for an exciting new product they have created which improves safety on airport runways and has worldwide market potential. The system prevents unauthorised vehicles entering an airport runway during take-off and landing or aircraft manoeuvres which is becoming an increasing problem as airports become busier, and there is currently a worldwide push to eliminate the issue.
Chair of the Awards Committee and of Goole Area Council, Joseph Richardson, said the quality of entries had been to the highest standard making the panel of judges task all the more difficult, and he thanked them for their efforts.
Mr Richardson also thanked the sponsors for the support, without which the Awards would not happen.
Comedian Josh Daniels entertained the audience with a very funny performance, including musical interludes.
There were 10 categories Awarded on the night, plus the Overall Winner. The successful companies were:
Innovative Business of the Year – Simplytrak Limited
Sponsor: Press Association
Charity of the Year - Goole & District Lions Club
Sponsor: Filplastic
Customer Service Excellence – HBP Systems Limited
Sponsor: Townends Chartered Accountants
Employee of the Year - Sarah Heatley – Anna's Happy Trotters
Sponsor: ABP
New Business of the Year – Wade Joinery & Construction Services
Sponsor: Cobus Communications
Small Business of the Year – MNA Group Limited
Sponsor: FSB
Large Business of the Year – Selby College
Sponsor: HSBC
Service Sector Business of the Year – Independent Tax
Sponsor: Goole College
Contribution to the Community - Goole AFC Community Football Club
Sponsor: H. Walton & Sons
The Tim Richardson Lifetime of Achievement Award – Howard & Julie Duckworth – Lowther Hotel
Sponsor: Link Agency
Overall Business of the Year – Simplytrak Limited
Sponsor: Link Agency
The tongue-in-cheek 'Loudest Table of the Evening' Award went to MNA Group Limited!
The organising committee and the Chamber are very grateful to the Sponsors of the Awards. The event is only made possible by their support.
In turn, the Chamber would like to thank the organising committee for all their hard work, dedication and giving up their time to make the event a big success.
For information about the 2018 event please contact Shaun Pinchbeck on 01405 765661 or at info@goolebusinessawards.co.uk or for more information visit www. goolebusinessawards.co.uk