Chamber welcomes Freeports Advisory Panel, but urges Government to include Humber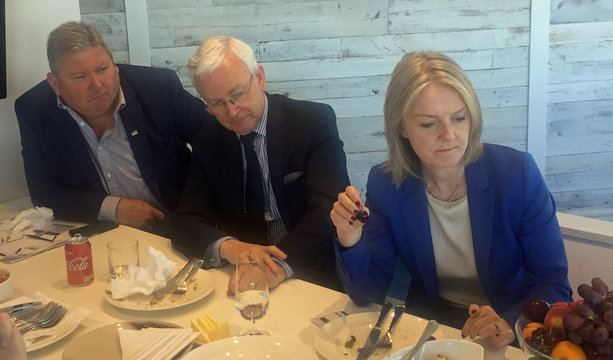 THE Hull & Humber Chamber of Commerce has welcomed today's announcement by International Trade Secretary Liz Truss of a new Freeports Advisory Panel, but is urging the Government to ensure the Humber ports are included in any plans.
The Freeports Advisory Panel is being created to advise Boris Johnson's Government on the establishment of up to 10 Freeports around the UK.
Liz Truss visited the Humber in June last year and met with Cleethorpes MP Martin Vickers, Chamber Chief Executive Dr Ian Kelly, ABP, Humberside Airport and other stakeholders as they discussed the idea of creating a Freeport in Immingham and the wider Humber region.
Freeports have been a regular topic of discussion at the Chamber's Shipping & Transport Committee. Its Chairman, Albert Weatherill, said: "It's clear from our discussions that businesses in the Humber would welcome the opportunities Freeports would bring and it's important that our region is part of any future developments."
Pauline Wade, the Chamber's International Trade Director, said: "The Humber is Europe's fourth largest trading estuary and gateway to the Northern Powerhouse and we need to make sure the Government includes us in any plans it develops for whatever may come after October 31.
"Liz Truss came to see us last year and now she is visiting Teeside, but the Humber, as part of the Northern Powerhouse, could be one of the drivers of the UK's future prosperity, creating thousands of jobs and driving inward investment."
A spokesperson for ABP said: "Associated British Ports is delighted by the Government's announcement on freeports. ABP is a strong supporter of freeports since they offer the potential to attract significant new investment, boost manufacturing and exports. In doing so, freeports can create thousands of new jobs in many areas where they are most needed.
"Many ABP ports and sites located close to our ports, such as Port Talbot and the Humber International Enterprise Park, offer large areas of development land close to deep water, ideal for facilitating the efficient import of raw materials or components and export of finished products. Freeports can capitalise on these advantages and make these sites even more attractive for investment in new manufacturing.
"We look forward to working closely with Government to deliver this exciting and ambitious policy."
Expected to transform the country's ports and airports just as freedoms transformed London's Docklands in the 1980s, up to 10 Freeports will be created after the UK leaves the EU on 31 October. More details on how ports and airports across the country will be able to bid for Freeport status will be announced soon.
Freeports are hubs for business and enterprise for both manufacturing and services trade. These could be free of unnecessary checks and paperwork, and include customs and tax benefits. These zones reduce costs and bureaucracy, encouraging manufacturing businesses to set up or re-shore. The most successful Freeports globally attract businesses and create jobs for local people through liberalised planning laws.
Freeports will ensure Britain's port cities and airports are ready to take full advantage of post-Brexit opportunities, including increased trade.
There are already thousands of very successful free trading zones around the world, with the United States having pioneered the creation of over 250 free trade zones, employing 420,000 people, many in high-skilled manufacturing jobs. If the UK model is implemented as successfully, it could have a significant economic impact.
During her visit to Teesport, the Secretary of State saw how becoming a Freeport could benefit a major port. Liz Truss said: "Freedoms transformed London's Docklands in the 1980s, and Freeports will do the same for towns and cities across the UK. They will onshore enterprise and manufacturing as the gateway to our future prosperity, creating thousands of jobs."
Chief Secretary to the Treasury Rishi Sunak said: "We are exploring Freeports as an innovative way to drive growth and support thousands of high-skilled jobs across the UK.
"We will focus on those areas that could benefit the most, as we look to boost investment and opportunity for communities across the country."