Chamber praises Ørsted over Race Bank Wind Farm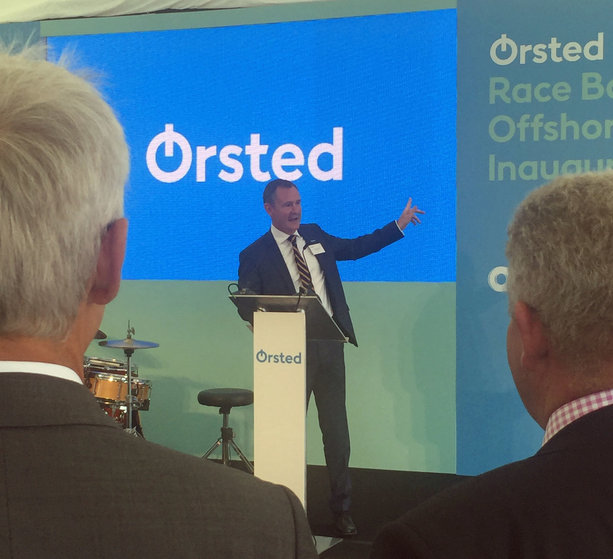 CHAMBER Chief Executive Dr Ian Kelly was among the business leaders who joined Ørsted's Matthew Wright and his team in Grimsby to celebrate the official opening of the Race Bank wind farm.
Located off the North Norfolk coast and operated from Grimsby it will be capable of powering over half a million UK homes.
Commenting after the event, Dr Kelly said: "I was delighted to join Matthew Wright and his excellent team at Orsted in Grimsby by the iconic Dock Tower as they celebrated the opening of the Race Bank Offshore Wind Farm.
"We are witnessing genuinely world leading developments in the Renewables industry right here in Grimsby and it's a real credit to all those involved".
The wind farm is capable of generating 573 megawatts (MW) of electricity from 91 Siemens Gamesa 6 MW wind turbines. Many of these turbines feature the first blades to be manufactured at the Siemens Gamesa blade factory in Hull.
The wind farm is located off the North Norfolk coast and is operated from Ørsted's East Coast Hub in Grimsby, the UK's largest offshore wind Operations and Maintenance (O&M) base.
Matthew Wright, managing director at Ørsted UK, said: "Race Bank is a fantastic infrastructure project and underlines Ørsted's contribution to the UK's energy transition. It's also another clear signal of our firm commitment to Grimsby and the Humber, and the UK supply chain for offshore wind.
"Race Bank is a hugely significant and innovative project, featuring the first ever turbine blades to be made in Hull and becoming our first wind farm in the UK to be operated using a new Service Operation Vessel. It's also one of the fastest projects we have ever built, with a fantastic safety record, and this is testament to the hard work of the project team and the great relationship we have with our partners."
Race Bank is owned by Ørsted (50 per cent), Macquarie European Infrastructure Fund 5 (25 per cent), Sumitomo Corporation (12.5 per cent) and funds advised by the Green Investment Group, Arjun Infrastructure Partners and Gravis Capital Management (12.5 per cent).
Maintenance will be carried out using a state of the art Service Operation Vessel (SOV) that remains offshore with technicians working shifts of 14 days on and 14 days off.