An Appetite for China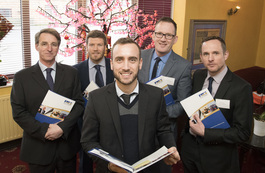 WHAT makes China a unique market is how the people's ancient traditions have stood the test of time. Businessmen and women at the World Trade at One lunch organised by the Hull & Humber Chamber of Commerce yesterday; brought together a wealth of knowledge to highlight the opportunities and challenges in trading with China. Amongst these were global business development consultants ALTIOS International, Myton Law IP specialist, logistics experts from John Good Shipping, and businessmen who had traded with China for as long as 20 years.
As the ancient Chinese Teacher said "By three methods we may learn wisdom: First, by reflection, which is noblest; Second, by imitation, which is easiest; and third by experience, which is the bitterest." Confucius, 449 BC.
It is no surprise that China's economy is creating an appetite for UK companies; with China's growing consumer culture, even Grimsby based fish feed producers, United Fish Industries see a demand in China.
Whilst many observe market insights for China, as a whole country, Pierre Boesinger from ALTIOS challenged business' to approach China from the bottom up. That is targeting Tier 2 cities such as Wuhan and Chengdu then working up to tier 1 internationally recognised capitals Beijing and Shanghai.
Manufacturing is still a major driver of China's economy, although consumer goods are on the rise. James Westwood, IP specialist, shared practical tips for protecting intellectual property in China, including trade secrets and most importantly the general structure local court and government authority in an instance of IP infringement.
John Good's, Paul Ferguson, demonstrated what a successful logistics approach looked like, and advice for each stage of supply chain.
What many businessmen will testify to is that the person is more important than the product. In China, approaching business with an awareness of the cultural context can be a 'game-changer'. Long lasting traditions dating back to ancient China are observed today, especially in the context of business. Adapting to these and gaining respect, that is Chinese 'mainzi 面子' will allow access into your Chinese potential client or partner's ' guanxi 关系' their network of influential people. In China, many agree that business operates within this network. Often business leaders in China will trust a recommendation from a member of ones' guanxi over a better price deal and even better quality.
Every opportunity has its challenges, certainly, yesterday's World Trade at One: China lunch and discussion showed the importance of community in business. That is bringing people together from different backgrounds with similar interests to share knowledge and learn from others.