Wilkin Chapman's 'one-stop-shop' approach provides the right solution to drive forward Jaguar Land Rover deal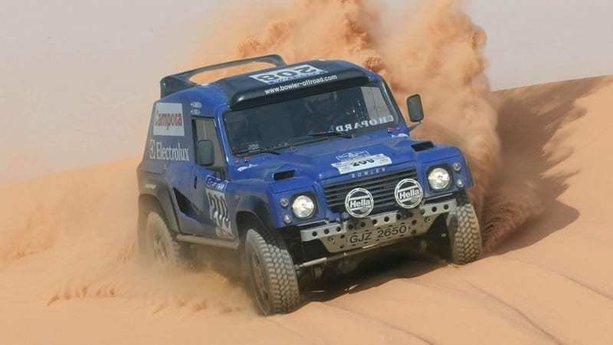 JAGUAR Land Rover's high-profile acquisition of one of Britain's most innovative 4x4 vehicle specialists was guided by a leading regional law firm, instructed by colleagues from its new Business Solutions arm.
The successful acquisition of Bowler, which hit the national motoring headlines was made possible due to the work carried out by Wilkin Chapman Business Solutions under the eye of its South Yorkshire-based Insolvency Practitioner and Director Ian Rose and colleague Karen Potts.
Both the administration and sale of the businesses and assets of three Bowler companies to one of the world's best-known motoring brands was completed on the same day, Tuesday December 17. To assist in ensuring a smooth passage within 24 hours, Ian called on Partners and legal specialists within his sister team at Wilkin Chapman solicitors.
The firm overall is delighted to have demonstrated the benefits of growing its Business Solutions arm – it acquired Doncaster-based Silke & Co last year with the very aim of creating a 'one-stop-shop' offer for organisations going through such change.
"Of course I am delighted for the team at Bowler that we were able to assist to achieve this successful outcome, which has saved both the business and the jobs that go with it," said Ian, who was a leading member of the Silke team prior to the acquisition by Wilkin Chapman solicitors and from which Wilkin Chapman Business Solutions was formed.
"Being able to call quickly on the teams within the overall Wilkin Chapman business ensured that I could move forward safe in the knowledge that the legal process with regard to the sale and purchase was in good order. This is an ideal example of the benefits of such partnerships," he added.
Beverley-based Corporate and Commercial Partner Nasim Sharf and Partner and insolvency specialist Adam Marham joined Grimsby-based senior solicitor and commercial property expert Jonathan Hyldon in assisting Ian with the legal side of the deal.
Nasim said: "When an organisation is going through such a process as Bowler did, it needs to be assured that those engaged in assisting are acting efficiently, in their best interests and with expertise. The ability of our legal teams to work alongside Ian and his Business Solutions team so well is evidence that this approach works. We are all thrilled and wish Bowler and Jaguar Land Rover all the very best for the future."