Two Northern Lincolnshire businesses progress in 2018 Chamber Business Awards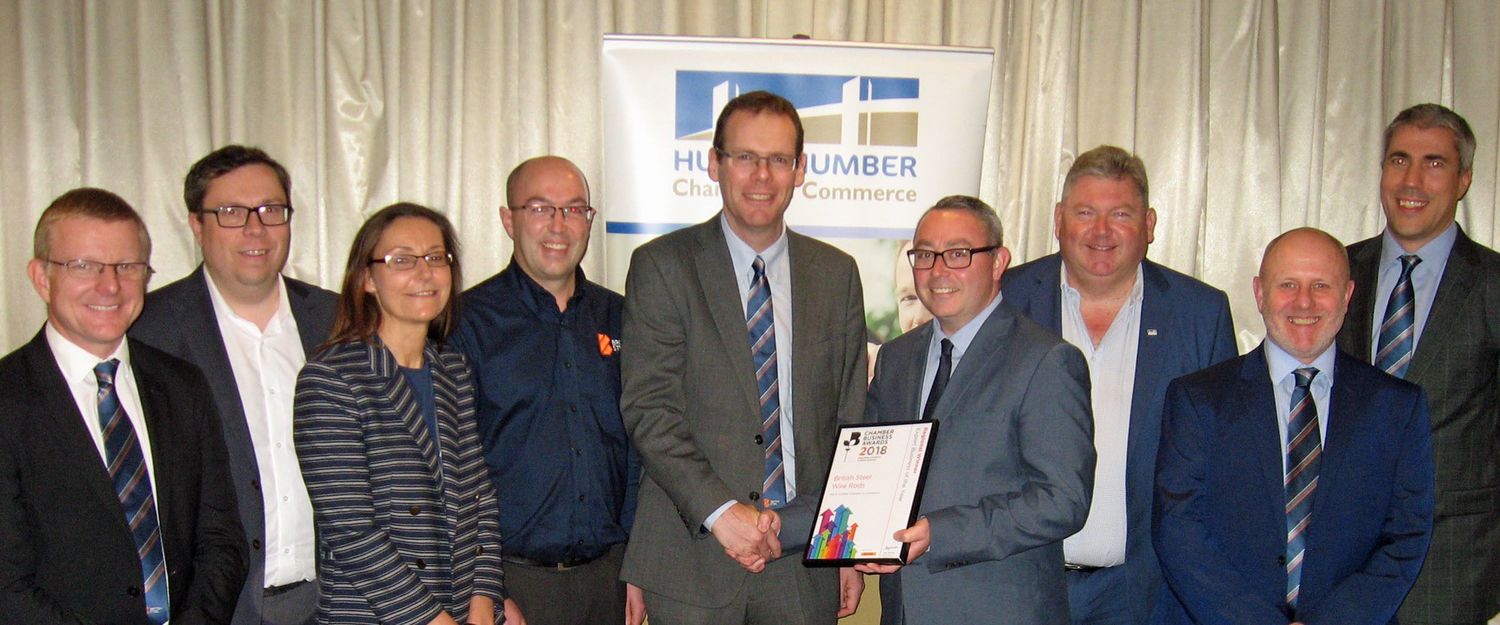 Pictured receiving the award from the Chamber's North Lincolnshire Area Council Chair Rob Bradley is British Steel Wire Rod Managing Director Richard Sims. Pictured (left to right) are: David Egner (Strategy Implementation Manager, Wire Rod), Steve Talbot (Operations Manager, Shipping), Estelle Goodson (Customer Services Team Leader, Wire Rod), Gregg Smith (Supply and Demand Manager, Wire Rod), Richard Sims (Managing Director, Wire Rod), Rob Bradley (Chamber's North Lincolnshire Area Council Chair), Dr Ian Kelly (Chamber Chief Executive), Phil Knowles (Commercial Manager, Wire Rod) and Jeremy Case (Commercial Manager, Wire Rod).
TWO Northern Lincolnshire businesses have been named winners in the Yorkshire and the Humber region heats of the Chamber Business Awards for 2018.
Scunthorpe's British Steel Wire Rods have won the Export Business of the Year award and Grimsby-based Ramsden International have won the Workplace Wellbeing award.
Now in their 15th year, the Awards are a highlight of the UK business calendar, recognising the key role that local businesses play in driving the British economy.
British Steel Wire Rods and Ramsden International will now go forward to represent our region in the national finals, which take place in London in November.
Richard Sims, British Steel Managing Director Wire Rod, said: "We're delighted to have won this award which recognises the quality of our people, products and services.
"A key part of our ongoing transformation is focused on growing into new markets, at home and abroad, and we're pleased to be making significant progress on both these fronts.
"Our growth will be further supported by the £50-million upgrade we're undertaking at our Scunthorpe Rod Mill, and the full integration of FN Steel – the wire rod business we acquired in the Netherlands last October – into our business.
"I'd like to thank everyone who has contributed to this decision and we look forward to attending the national awards later this year."
Sean Ramsden, of Ramsden International, said: "This is amazing news! Thank you so much to everyone involved. It's great to win this award and it will be a boost to our colleagues".
Anne Tate, the Chamber's Northern Lincolnshire manager, said: "Businesses are the engines of the UK economy – creating opportunities and prosperity in our towns, cities and counties. Even in times of austerity, they continue to show their adaptability, resilience and strength.
Pictured (above left) are Ramsden International's Trading and Marketing Director Richard Collins receiving the certificate from Kevin Hopper, representing the Chamber's North East Lincolnshire Area Council.