Trinity House Academy aims to turn the tide on maritime skills shortage on Humber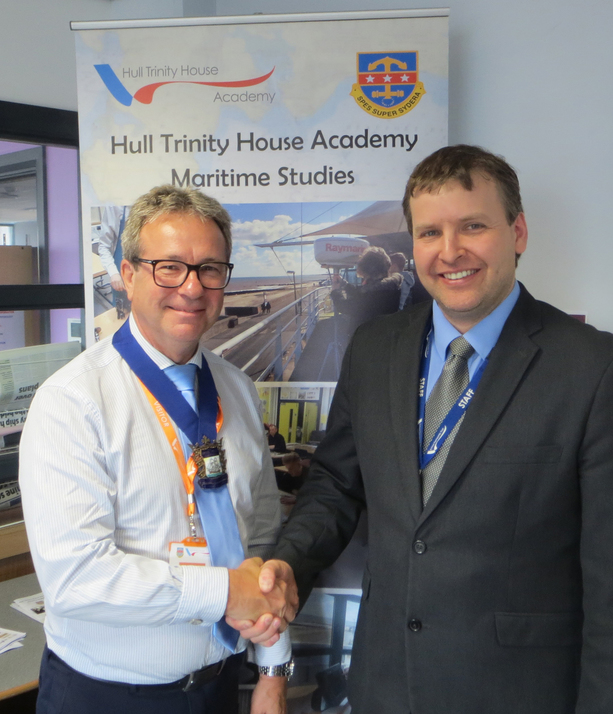 TRINITY House Academy hosted members of Hull & Humber Chamber of Commerce's Transport and Shipping Committee for their September meeting.
The Hull Academy's Vice Principal, Nathan Goodman, welcomed members and explained how the school, which was founded in 1787, aims to provide maritime pathways for young people from age 11 to adult and how he hopes to see it develop into a dedicated nautical college for the Humber region which will help to address a skills shortage on the Humber.
Mr Goodman told business leaders that the school had recently converted to Academy status which gives it more freedom to reintroduce maritime studies. The Government's Maritime Growth Study published this year highlighted a growing shortage of skills and that the average age of those in the industry is now 58.
The Academy caters for boys from the age of 11 and received 300 applications for just 120 places this year. Students and parents apply to the academy because of its high standards and it is the number one choice for those interested in the maritime industry as a career.
Developments in the Renewables industry in the Humber are expected to see an increasing skills shortage, but Mr Goodman explained how students can undertake a range of maritime qualifications to equip them for work. These include SQA Level 2 Qualification in Nautical Studies at KS4, the Royal Yachting Association (RYA) Basic Navigation and Safety at KS3, students studying the SQA Level 2 Qualification in Nautical Studies also cover personal survival techniques and a range of industry tickets. The school has also been gifted a fast rescue boat and firefighting equipment which means their 16-year-olds will be well placed to take on an apprenticeship.
The Academy is also looking at the possibility of introducing a BTEC course when one becomes available and is offering adult education with the Royal Yachting Association's VHF radio and day skipper qualifications being delivered as evening classes
Trinity House is also developing a partnership with Hull Trinity House, Hull Training, HOTA, and possibly HETA to provide funded apprenticeships
Their Carmelite House site will soon have a Transas Ships Simulator installed to replicate a fully-working ship's bridge, while a Dutch firm is donating a sonar system and marine diesel engines, so students will be well-versed in numerous maritime skills making them ready for the workplace when they leave the Academy.
Looking to the future, Mr Goodman told the meeting that beginning with KS5, they are looking at getting a re-designation for the school so that it will cater for 11-18-year-olds, allowing it to become a post-16 Nautical College for the region, an ambition which is supported by Hull MP Alan Johnson.
The Chamber's Shipping and Transport Committee chairman, Albert Weatherill, asked about the response the Academy was getting from the world of shipping? Mr Goodman said many of the larger operators in the area were very supportive and P&O are looking to see how they can help. The Academy is also hoping to work with ABP with students aged 16- 17.
Capt Russ Garbutt, a former P&O Ferries Captain, said he was delighted to see students learning personal survival techniques. Mr Goodman said that 10% of their students choose that option at the moment, but the course has only been running for a couple of years. The Academy was also upskilling more teachers so they can teach the course, which includes firefighting on vessels, power boat Level 2, VHF radio and first aid skills.
Capt. Garbutt said: "This course gives the students a good leg-up towards a qualification which is a cost employers don't have to pay out to train them and it is great hear that most students also go on an extended sail which provides them with lots of practical experience."
Mr Weatherill added: "The Academy should be congratulated on giving the students a core knowledge of the maritime industry which is a great asset for employers".