Time to 'seize the day' and drive Grimsby's Regeneration agenda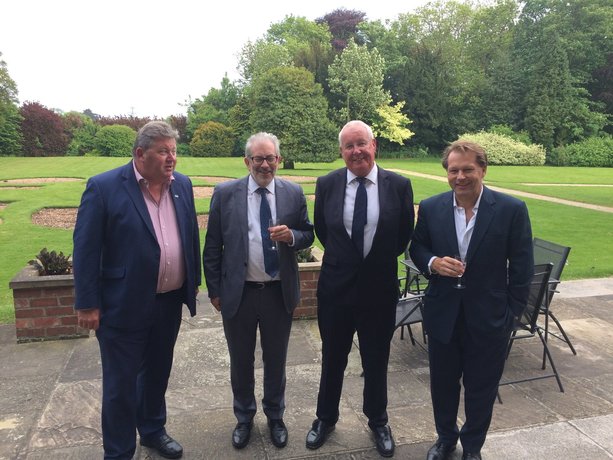 DRIVING forward Grimsby's Regeneration agenda was the theme of a high-powered dinner attended by senior business figures with leaders of the Grimsby Regeneration Partnership Board.
Held at Healing Manor Hotel, on Tuesday evening (22nd May) leaders from the Regeneration Board included Grimsby's best-known entrepreneur, David Ross, of Carphone Warehouse fame, Lord Bob Kerslake, former head of the Civil Service, North East Lincolnshire Council Leader Cllr Ray Oxby and Chief Executive Rob Walsh.
Chamber of Commerce Chief Executive Dr Ian Kelly, who hosted the event, highlighted that Grimsby Regeneration Board Chairman David Ross' grandfather, Carl Ross of the famous seafood company, had been President of the Chamber in 1948 and was also, like David, a deeply committed business leader to the town's regeneration.
Attendees at the dinner agreed the need for a multi-pronged approach to Grimsby's regeneration which included the requirements for closer education links into business and a stronger "brand" offer from the town to inward investors. It was noted that the current regeneration proposals hinged on winning a £36.9-million bid from the Treasury which would act as a catalyst and multiplier for further private sector inward investments to come.
Business leaders from ABP, Phillips66, Seachill and the Humber LEP were among those attending who felt there was now a strong consensus for the town to "seize the day" and keep the renewables momentum going forward with this new regeneration proposal to Government.
Chamber Chief Executive, Dr Ian Kelly, commented: "David Ross and Ray Oxby were clear that the Regeneration Board needed to take its message and ideas out to business and that has now been successfully done".
He added: "I received a note from Lord Lamont who also sits on the board and is strongly championing the current Grimsby Regeneration agenda. With key high-powered supporters also advocating the town we should all now try and do our bit to promote Great Grimsby's great opportunity for a better future".
The evening closed with Steve Bennett and Charlotte Hay giving members an insight into their own wonderful regeneration project as joint MD's of Healing Manor Hotel. Members wished them well and the hotel every success.