Tide of optimism flooding into Hull as Martin Green updates Chamber businesses on City of Culture preparations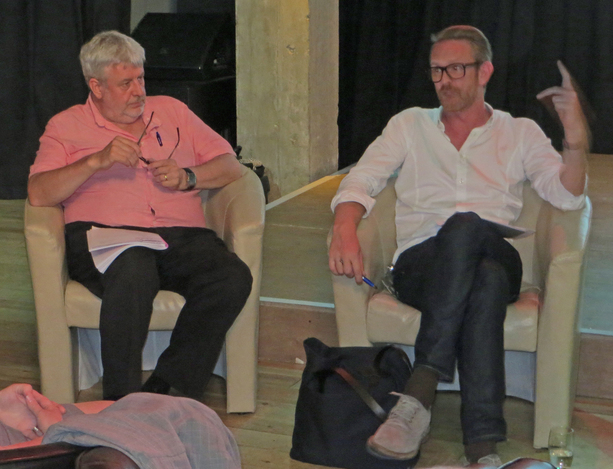 A TIDE of optimism is flowing into Hull as the city prepares for its year in the international spotlight as the UK's City of Culture 2017.
Chief Executive Martin Green is still giving little away about some of the big events he and his team have in store, but promises it will be a year to remember – and one with a strong maritime theme reflecting Hull's seafaring history.
Talking to Hull & Humber Chamber of Commerce's Hull Area Council this week (July 28), Mr Green said that 3,500 naked people painting themselves blue and taking over the city centre, made headlines around the world and it shows the potential the city has to boost its profile on the international stage – and he promises the people of Hull won't be disappointed.
The Sea of Hull by Spencer Tunick was the first of many big crowd pullers, most of which are still closely guarded secrets, Mr Green told Chamber business leaders looking to plan events that they will all inter-mix and complement each other, so they shouldn't be afraid of clashing with as yet undisclosed City of Culture events.
Mr Green urged the growing number of cafes, bars and other city businesses to make sure that they are open on January 1st as something big will be happening in the city on that day, and he expressed concern about those businesses which had needed to close their doors during a recent event because they had run out of food, or it was their usual closing time. He said: "We need businesses to be open when our events are taking place and serving the crowds who will come".
Mr Green also said the only date which he is telling event organisers to avoid, was the May Bank Holiday Weekend, for which something big is planned, but he wouldn't be drawn yet as to what that might be – but it's certainly a date for your diaries!
However, on September 22 this year, there will be major announcements about the first tranche of events which will take place during the first months of the City of Culture year. Mr Green added that they want to make sure that when people leave Hull, they do so with only one desire – and that is to return.
Earlier Jon Pywell, Hull City Council's City Manager of Culture and Place, updated the Chamber's business leaders on the progress of the public realm works which are currently transforming the city centre. He said: "It's a great time to be in Hull and you only get one chance to be City of Culture. It is changing Hull and its reputation.
He said work started 20 months ago and there is one programme, four work streams and 49 projects. When complete, the eyes of the world would be upon us.
Mr Pywell reminded the Chamber that there had been a £221.5-million investment in our city's cultural assets and a £22.73-million investment from national bodies which we wouldn't have got if we hadn't got City of Culture 2017.
However, it is the people of Hull who are the most important asset the city has and it will be up to them to make a visit to the city the best experience it can be for visitors.
Mr Green said his team, 60 per cent of whom are from Hull, now have 2,000 of the 4,000 volunteers they need and have actually started going door-to-door in areas where people haven't yet signed up to get them involved with hosting the events.
Mr Green also praised Hull City Council, which he said was very close to being able to talk about its City of Culture legacy plans, which is the very first time ever in his experience that this has happened at such an early stage of these sorts of programmes.
For more information on Hull City of Culture 2017, visit https://www.hull2017.co.uk/