Sir Richard's good advice for Humber politicians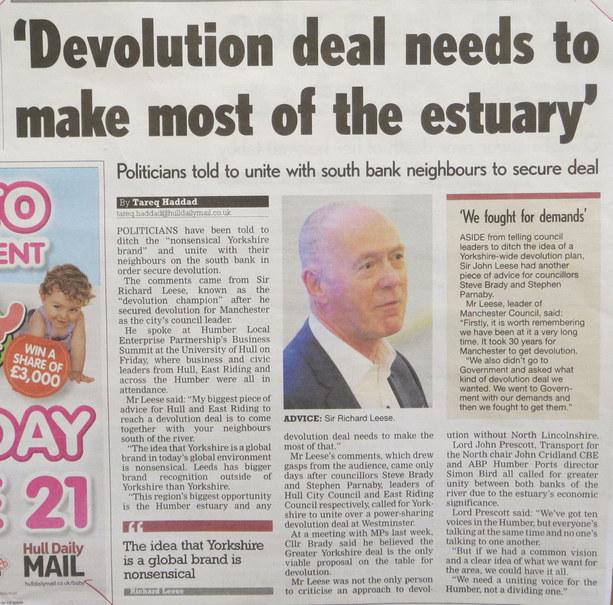 COMMENTS by the man who has become known as the "Devolution Champion" have reignited the debate over the Humber's future.
Sir Richard Leese secured a devolution deal for Manchester as the city's council leader and speaking at the Humber LEP's Business Summit on Friday, attended by civic and business leaders from both banks of the river, he told north bank politicians to "ditch the nonsensical Yorkshire brand and unite with their neighbours on the south bank to secure a devolution deal for the Humber".
Sir Richard told the audience: "My biggest piece of advice for Hull and East Riding to reach a devolution deal is to come together with your neighbours south of the river.
"The idea that Yorkshire is a global brand in today's global environment is nonsensical. Leeds has bigger brand recognition outside of Yorkshire than Yorkshire.
"This region's biggest opportunity is the Humber Estuary and any devolution deal needs to make the most of that".
Lord John Prescott, Transport for the North Chair John Cridland CBE and ABP Humber Ports director Simon Bird all called for greater unity in the Humber due to the Estuary's economic importance.
Lord Prescott called for a common vision and a clear idea of what we want for the Humber, adding that if we can get that, we can have it all.
"We need a uniting voice for the Humber, not a dividing one," he added.
While some politicians in Hull and the East Riding are still hanging onto hopes of a Greater Yorkshire devolution deal, it is now clear that won't become a reality, with Leeds having said it doesn't want to include Hull and the East Riding in its plans, and Sheffield having already got its own deal.
Two leading south bank MPs, Nic Dakin (Scunthorpe) and Melanie Onn (Grimsby) are also unhappy with the Greater Lincolnshire deal, and believe the Humber as an economic unit remains best solution for the region's future.
Sir Richard's comments that "Yorkshire as a global brand is nonsensical" have certainly reignited the discussion over the future of the Humber region.