Recalling 'milestone moment in Hull's new future' at Siemens factory opening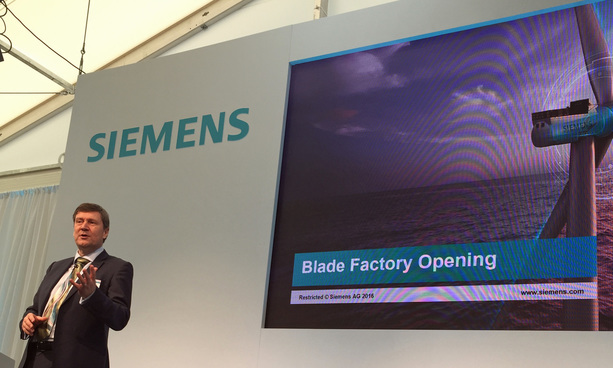 CHAMBER Chief Executive Dr Ian Kelly said: "It was a milestone moment in Hull's new future" when he joined other VIP guests to celebrate the opening of Siemens new £310-million Blade Factory.
Matt Jukes and Ian recollected Matt's Annual Dinner as President of the Chamber in 2013 when, to a packed house, Matthew Chinn of Siemens spoke for the first time officially about their ambitions in the Humber which have now come to fruition.
Ian also recounted the hilarious moment when Clark MacFarlane (pictured here at the opening last week) who was wearing his kilt on the Annual Dinner night, had to cope with the comedian Patrick Monahan crawling beneath his legs as he spoke with the audience falling about laughing.
Juergen Maier of Siemens, also speaking at last week's event in front of Secretary of State for Business Greg Clark, and former Secretary of State for Business Alan Johnson, highlighted that what Siemens, Dong and ABP were doing together in the Humber was real life "industry policy in action".
Ian speaking to Juergen after the speeches and then to Andrew Percy, the new Northern Powerhouse Minister, flagged up the Chamber's strong hope that in the Government's new Green Paper on Industry Policy in the New Year, much more of this kind of thinking would be evident.