Nothing virtual about the reality of young business's success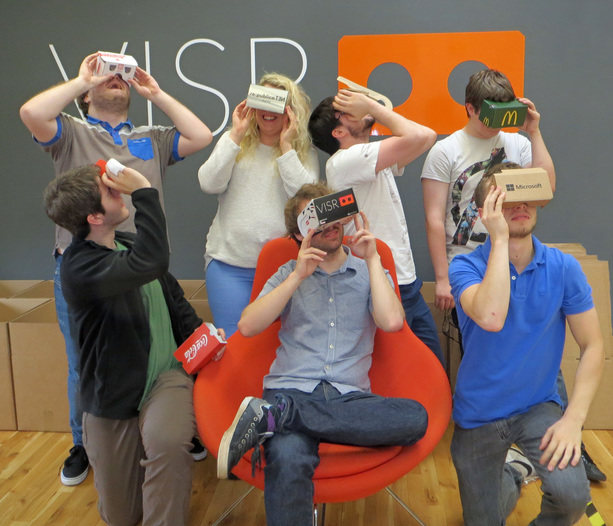 JOINING a Hull & Humber Chamber of Commerce trade mission to San Francisco with prototype virtual reality headsets gave some young entrepreneurs a clear vision of their future.
Co-founders of VISR VR Ltd, Louis Deane (26) and Lindsay West, found their stand at the Games Developers Conference (GDC) in 2015 was dwarfed by the neighbouring stand, but when a director from that stand took an interest in their product, the VISR team got the break they were hoping for. The neighbouring stand belonged to Google!
In the short space of time since, the fledgling business based at Hull University Business School's Enterprise Centre has grown to employ 12 full time staff and now claims to be the largest manufacturer of virtual reality headsets in Europe. Their headsets come in six different styles costing an average of less than £10 a pair to make and the company has recently completed an order for 35,000 pairs of headsets.
VISR boasts Google and Wargaming, two of the biggest and most valuable companies in the world, among its impressive list of clients which also includes world class brands like Microsoft, Coca-Cola and McDonald's.
The trade mission which gave the young entrepreneurs their big break was delivered by the International Department of the Hull & Humber Chamber of Commerce, supported by funding from the Regional Growth Fund through the Humber LEP.
The Chamber's International Trade Director, Pauline Wade, who organised the trade mission, said: "The key message if you're trying to win new contracts is to go to where the heart of the industry is and in this case, San Francisco's GDC was the place to be. International trips such as these can sometimes be seen as jollies and we need a change of mindset in this country to bring business to this area. Even the social events in the evenings were mixing with the right people, and it was all work orientated.
Louis is also a Gateway Interactive accredited games developer for the Microsoft X-Box. He said: "We took a chance on going to the exhibition in San Francisco – and came home with a £150,000 investment from a publishing group based in London which was great – but the business was done in San Francisco.
"Had we not been there, we wouldn't have won the work, so my message is that if you miss out on trade missions, you don't get those leads in the first place. If you have a business of any size, it is critically important that you go on trade missions".
The team from Hull University's Enterprise Centre had a stroke of luck, as Louis explained. "It was almost by chance that we got our big break. Our stand was next to Google's, although it was a fraction of the size. Our VISR headsets are designed and made in Hull, and when one of the bigwigs from Google came to have a look at our headsets, he said they were better than the ones Google had produced and asked if he could take a headset away with him – a request which was initially refused because we only had six examples with us. The man from Google was told that if he came back at the end of the week, he would be given a headset to take away with him. True to his word, he did return on the last day of the exhibition to collect his headset and the rest, as they say, is history.
"Without the support of the Chamber, this simply would not have happened and this was an across the board strategic win in developing trade missions".
Lindsay added: "The significance of some of these developments are misunderstood. It is very much a growth focused industry. It was good for the Chamber to stick its neck out for young people".
Pauline readily admits it was a sector she knew very little about at the time. "There is much focus on Renewables, food and drink and their supply chains, but technology is integral to the future of all thriving businesses. I learned a lot".
Louis agrees, and says it was interesting from a business perspective to go and see their peers to see how they have gone through their business journeys, and the people there, even though they may be competition, are always happy to help, they are engaging people who are willing share their knowledge and help the younger businesses develop. Strategically it was good to see what other people on the world stage were doing.
"We took a back of a napkin idea, got the validation from established players that we needed, and we were off.
"The VISR design was inspired by the work done by Google on Google Cardboard, but is not an implementation of their plan. The pattern we design and manufacture was entirely developed here in Hull".
Talking about his hopes for the future, Louis said he wants businesses to be able to embrace VR technology, and believes nearly every business type could benefit from its use and make more money. Estate Agents, for example, could take virtual reality pictures of properties they are selling and allow potential buyers to see the houses without actually leaving the office. Health and Safety training, theatre, music and the arts are other examples of where the technology could be utilised effectively.
Louis says money, growth and success are all very nice, but virtual reality is a groundbreaking new way of communicating, connecting people and machines in a manner never seen before which will change everything about how companies work. It's creating jobs and really positive opportunities for young people to get involved and make a difference in business.