New UK Distribution Agreement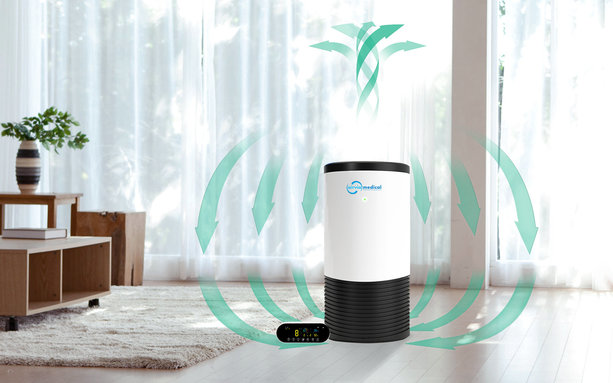 COMPATIBLE diversification for Steven Tradewell and True-Budget Accommodation as TBA collaborate with Airvia Medical.
Since 2004 TBA have specialised in helping Contractors and Merchandising Companies control their accommodation costs by sourcing accommodation for staff working away from home. Now TBA are set to help Hotels increase their turnover and welcome guests back to their accommodation by providing top grade portable, Air Purifiers, supplied by AIRVIA Medical.
Ex-hotelier Mr Tradewell said, 'Recognising that hotels now need to go that extra mile in protecting the health of their employees and guests, I researched the benefits of Air Purifiers and to see what the industry has to offer. AIRVIA Medical appeared to be the only supplier offering cylindrical units with a 360° air intake, combining 8 different purification technologies to provide clean air free of germs, nanoparticles and allergens.'
Lock down caused the hospitality industry, like many others, to lose a significant amount of income; due to the measures imposed to fight COVID-19. To spend resources on an AIRVIA Medical Air Purifiers may, therefore, seem an unnecessary expense. However, strict cleaning protocols post "lock down" have seen Hotels and other Accommodation providers forced to limit the number of rooms available, as rooms may be left empty for a number of days, after a guest has vacated, to minimise any potential risk.
An AIRVIA Medical Air Purifier running whilst rooms are being serviced will clean the air, helping to protect staff from air-born and surface bacteria, viruses and other pollutants, and reduce bed room "downtime", whilst giving guests the peace of mind that the Hotel has done all that is possible to ensure that the rooms are safe for use.
The larger of the two units is able to clean a large area of up to circa 150m squared in a matter of minutes; perfect for meeting and conference rooms, ensuring that delegates are content in the knowledge that the air has been purified before the start of any meeting. Of further benefit is the fact that the units have several speed settings, the lowest of which is so quiet that it may be left to run without disturbing the meeting.
Furthermore, the units are a potential revenue stream. Not only may guests choose to rent a, smaller, unit for constant use during their respective visit but Meeting and conference organisers may like to hire a unit to have running during their event to give delegates peace of mind. These options would mean the return on your investment would be measured in weeks rather than years.
To aid the movement of the units between rooms, TBA, have teamed up with local company, Hawk Furniture Ltd, to produce a bespoke trolley, which may be purchased for an extra fee.
Keeping things local, the well-respected Chartered Health and Safety Director at Abbey Construction Consultants Ltd, Heather McQueen Pearson, has provided a comprehensive Risk Assessment.
For further information regarding this press release please contact Steven Tradewell on 07946 264088, 01482 679101 or 01430 422683.