Lincolnshire company launch product to global athletics community at Rio 2016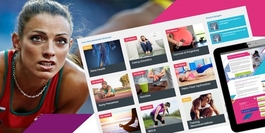 FIRST Media, a creative company based in Louth, Lincolnshire, were chosen to collaborate with Worldmark Films and the International Olympic Committee (IOC) to produce an interactive e-learning course on health and well-being for female athletes. The course which has already been trialled by the IOC will officially be launched to the global athletics community during Rio 2016.
First Media, who specialise in e-learning, were pleased with the finished product and excited about the growth of their reputation on the international stage. Having worked closely with clients in the sports sector for over a decade producing e-learning materials and interactive events, the company were able to demonstrate their skills and experience to win the contract. Shane Traill, Director at First Media commented,

"We are delighted to have had the opportunity to work with the IOC. It was an interesting project that required a high level of collaboration and sensitivity due to some of the content. Working with sport and health experts from around the world, we created 13 tailored learning modules, covering subjects from Bone Health and Nutrition to Sexual Harassment and Injury Prevention. Using a mix of film, interactive activities and custom illustrations, we transformed the learning into interactive, bite-size chunks."

Having worked alongside the sports industry for over a decade, enjoying ongoing projects with national organisations such as the FA, League Football Education and the Premier League, now, First Media's work is being showcased on an International stage. The Lincolnshire based company hope that this will be the beginning of ongoing relationships with the global athletics community and further international projects.