Jordan to pioneer ambassador role for disability charity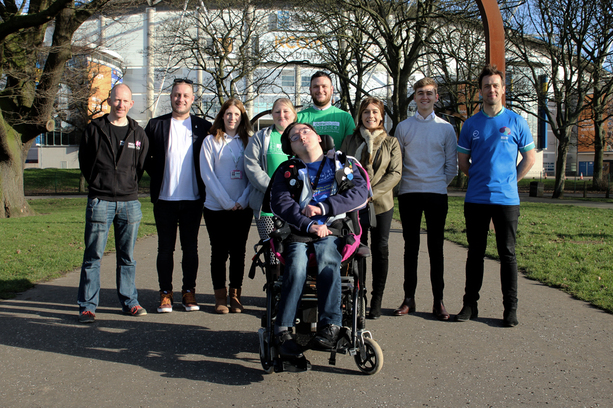 A YOUNG man with severe physical disabilities who describes himself as the "poster boy" for an East Yorkshire charity is working to raise its profile after being appointed as its first official ambassador.
Jordan Moore, a full-time wheelchair-user as a result of quadriplegic cerebral palsy, is also leading a campaign by Special Stars Foundation to recruit other disabled people to create a team of ambassadors.
The group will help the Foundation promote its work and will also represent its members and trustees at events organised to raise awareness and funds. Since taking up the role late in 2017, Jordan has attended cheque presentations at The Marvell College in Hull and at global medical technology business Smith & Nephew.
He also represented Special Stars at the recent unveiling of the charity partners for the Hull Marathon & Relays, which is sponsored by Eon Visual Media and Brainworks. Jordan was joined at the launch by representatives of the event's other four charity partners – Hudgell Trust and the Hull Homeless Community Project, Dove House Hospice, Nurture A Child and Disability Sports Humber.
He will feature prominently as the Foundation reveals details of other fund-raising activities and business partnerships, and he will join trustees in hosting events at the headquarters in High Street, Hull.
Natalie Barnes, Founder and Chair of Special Stars, said: "We are thrilled to announce Jordan as our first Ambassador! It is crucial to involve our members as much as possible in awareness and fund-raising activities. The public can then see the real people we support and learn about how vital our services are.
"We created this role for Jordan and, after seeing his enjoyment, we realised it's something we can extend to other people. We want to assemble a team of ambassadors who will bring together a voice for the disabled community in Hull and East Yorkshire."
Jordan said: "Being an ambassador for special stars gives me a feeling of achievement because I have never before had the opportunity to be involved in a role like this. It makes me feel like I am helping the charity, and the charity helps other people like me and that makes me feel worthwhile. I also want to become a poster boy for the charity and I am really looking forward to this!"
Natalie added: "Our ambassadors can help us spread the word about our work, attend fundraising and awareness activities and help us to engage with more businesses. The Smith & Nephew donation resulted from their staff in Hull adopting us as their charity of the year. Marks & Spencer in Whitefriargate have now done that for a second year and we would love more businesses to come forward."
The Hull Marathon will take place on Sunday 23 September and Jordan will lead the Foundation's presence at its stand in the Race Village in West Park.
Collette Watson, a trustee of the Foundation, said: "We are delighted to be chosen as one of the Hull Marathon Charity Partners this year. The funds raised will be used to make a massive difference to the quality of life of disabled people and their families living in Hull and East Yorkshire."
Anyone interested in becoming an ambassador for Special Stars Foundation should be a resident of Hull or the East Riding aged 18-plus and should have a disability. They should be willing to attend meetings and other events and be passionate about promoting inclusion and the rights of disabled people.
Easy-read application forms are available from Special Stars Foundation by calling 01482 227657 or sending an email to info@heyspecialstars.co.uk Parent carers can apply verbally or in writing on behalf of the person with a disability.
More information can be found about the charity at www.heyspecialstars.co.uk