Jobcentre Plus and Chamber help young unemployed sharpen skills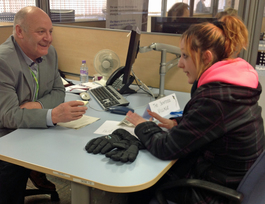 Industry leaders offer help and advice to enable jobseekers to enter world of work
HULL & Humber Chamber worked in partnership with Jobcentre Plus to put on an event for the young unemployed of NE Lincolnshire.
Held at Grimsby Jobcentre Plus, on Victoria Street, over 1,000 young people aged 16 to 24 were invited to the event to promote employment opportunities and pathways to employment to local jobseekers.
The event provided a great opportunity for leaders of industry to meet potential talent for business and communicate some of the key benefits of working in their various sectors and talk about the skills requirements for different sectors.
The event helped Jobseekers to better understand the needs of local employers and help them move forward into the world of work more quickly and more confidently.
The Chamber's Northern Lincolnshire manager, Anne Tate represented the Chamber at the event. Anne said: "The Chamber was pleased to partner Jobcentre Plus in this event and provide a helpful conduit between the young unemployed and local employers.
"A good number of our members supported the event and we would like to offer them our sincere thanks.
"We hope that we have provided good information on individual employment sectors which may help to direct young people to areas of work they are interested in, or indeed may not previously have considered. There was a fantastic attendance and "buzz" in the Centre on the day and the event was extremely well organised by Lorraine Alexander and her team at Jobcentre Plus."
Lorraine Alexander, Employer and Partnerships Manager at Jobcentre Plus, thanked the Chamber for supporting the event. She said: "Over 1,000 young people attended and reported to us that they enjoyed the event and found the information and support extremely useful and relevant to their circumstances.
"I believe the event raised the profile of the number of NE Lincolnshire organisations and employers working in partnership to support our young people to tackle the worklessness agenda.
"A number of young people indicated that they would like to undertake a work experience placement to make themselves more employable. If any company is in a position to offer a young person an opportunity like this, please do get in touch on (01472) 622244".