It's Tier 3 for the Humber region as national lockdown restrictions end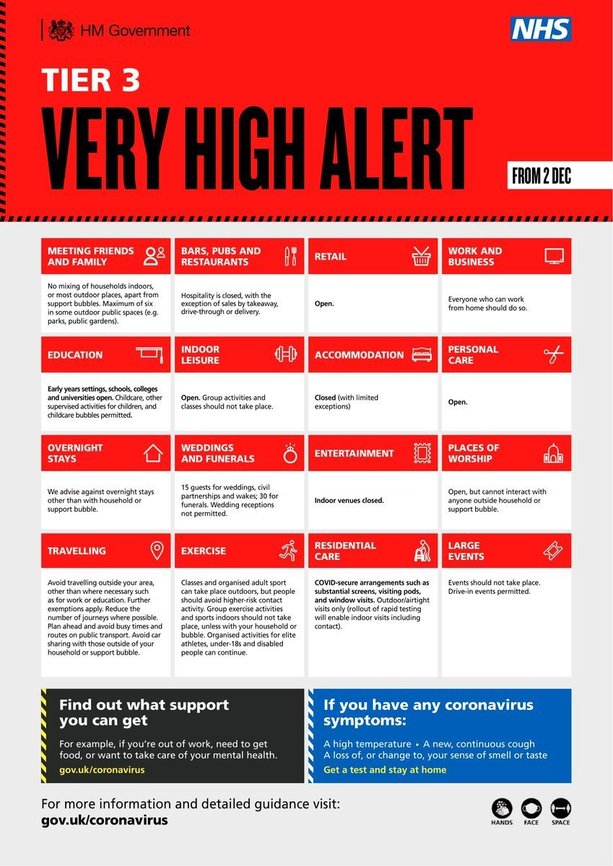 ALL four local authority areas in the Humber will be placed in Tier 3 from December 2 when the current national lockdown restrictions end.
We know that while some businesses will be able to reopen, others will require more support as they're forced to stay closed.
Your Chamber is here to support you.
Health Secretary Matt Hancock told the House Commons: "Hope is on the horizon but we still have further to go. So we must all dig deep."
"We should see these restrictions not as a boundary to push but as a limit on what the public health advice says we can safely do in any area," he added.
David Hooper, the Chamber's External Affairs Manager, said: "While a Tier 3 banding for the Humber is disappointing, it's not a surprise as infection rates are still so high, but will still be a blow for our hard-pressed businesses which were hoping for a bit of pre-Christmas cheer.
"There is a bit of hope though, as the numbers of cases in all four local authority areas are now falling steadily, and the Government has said the Tier levels will be reviewed on December 16.
"We are therefore urging everybody to follow the guidance and stick to the rules to ensure the infection rates keep heading in the right direction and then maybe if we drop back into Tier 2 we can have our pubs open again in time for Christmas.
"With several vaccines now in the pipeline, there is a brighter outlook on the horizon, but we still want Government to support businesses in the Humber until things can return to a more normal footing".
A spokesman for the British Chambers of Commerce said: "Ongoing restrictions in England will continue to have a devastating impact on businesses across the country.
"To weather a difficult winter ahead, greater support will be needed for the hardest-hit firms, including those in town and city centres that will miss out on trade as employees continue to work from home.
"While the Government has today added some clarity about the rationale for which restrictions apply where, they must waste no time in producing a full impact assessment and engage with businesses on how to mitigate the ongoing economic effect.
"A review of tiers on December 16 will provide hope for a way out of the strongest restrictions, but the process by which areas can move into new tiers should be transparent and include clear triggers and enough time to allow businesses to plan accordingly.
"There is no substitute for a fully functioning economy. Broad-based mass testing still holds the key to getting employees back into offices, suppliers and customers into shops and international travel and trade back up and running.
"Chambers continue to urge the government to redouble their efforts to improve its Test, Trace and Isolate system."