Hull's Paragon Station marks 175th anniversary with VIP reception as it points to exciting future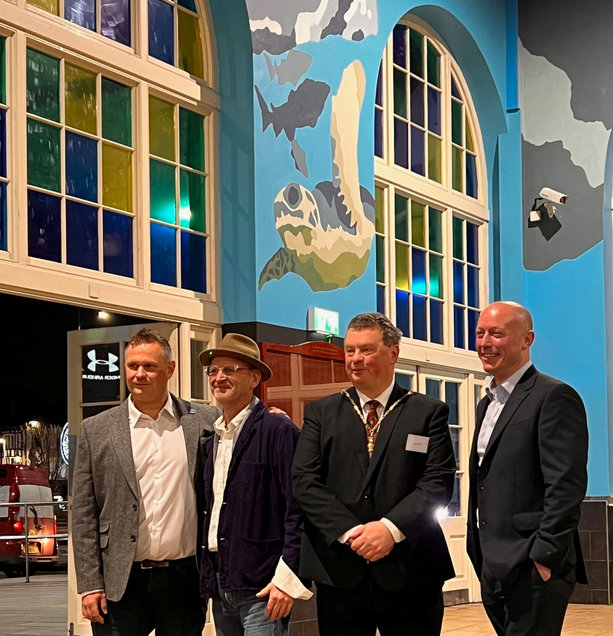 HULL'S famous Paragon Station has celebrated its 175th Anniversary with a VIP reception hosted by Trans-Pennine Express in what used to be the main ticket office.
The station was built in 1848 as a key railway station for the city and later became the major public transport interchange we know today.
The reception was held in the historic tiled ticket office with guests enjoying canapes and refreshments.
This event signalled the completion of the installation of the new mural situated in the station's Ferensway entrance. The unique artwork has been created by local artist Andy Pea to celebrate the anniversary of the Interchange and reflects Hull's rich history.
Andy told the audience how pleased he was to be asked to create the artwork in such an iconic building and thanked all those who had help bring the project to fruition – especially his mum, who had encouraged his artistic flair from an early age and was among the attendees.
Andy said: "When you think about the history of this station, and what has happened in the country since it was built, it is quite incredible. Since it was build in 1848 it has seen 26 American Presidents, seven Monarchs and lots of Prime Ministers, two World Wars, the invention of radio and TV and has now been chosen by an Oscar-winning director as film set for an upcoming blockbuster."
Station Manager Ben Courtney said he was proud of the station and its new look and was looking forward to further developments, including seeing Platform 1 being brought back into service for the first time in more than 30 years before the end of this year.
The Managing Director of Trans-Pennine Express, Chris Jackson, said it was a great honour for him to be invited to the company's flagship station which serves 12-million passengers a year. He acknowledged that the company had been taken back under Government control on May 28th, 2023, but said he was looking forward to a £10-billion route upgrade and a they are currently procuring a new fleet of trains which he hoped would help return the business to one of the best in the industry.