Hostile vehicle mitigation solution provider secures double award nomination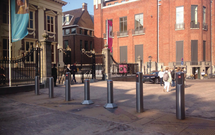 HOSTILE vehicle mitigation specialise Heald have been shortlisted for two awards at the inaugural Counter Terror Business Awards.
The Hornsea-based company have secured nominations in two categories, including 'Outstanding Contribution to Counter Terrorism' and the 'Perimeter Protection Award'.Heald's inclusion on the shortlist for these awards comes after they were recently appointed by the New Orleans Office of Homeland Security to secure the historic French Quarter of the city and protect the popular pedestrianised zone from potential attacks by hostile vehicles.
The Counter Terror Business Awards are being held to recognise the efforts of both public and private sector organisations who have made significant contributions to counter terror strategy in the UK and overseas.
On their shortlisting Managing Director, Debbie Heald MBE, said: "We're delighted to have been recognised by the Counter Terror Business Awards as one of the leading organisations in the fight against hostile vehicle crime. We are very much looking forward to the event, and wish the best of luck to all of the other shortlisted companies and individuals."
The awards, held on March 6, will be presented during the Security & Counter Terror Expo, which takes place at Olympia, London. The awards will be presented by former Defence Secretary the Rt Hon Sir Michael Fallon, and other attendees include Julian King, European Commissioner, Security, and Mark Rowley, Assistant Commissioner for Specialist Operations, Metropolitan Police Service, and National Lead for Counter Terrorism Policing.