Home of bar code pioneer to undergo business centre conversion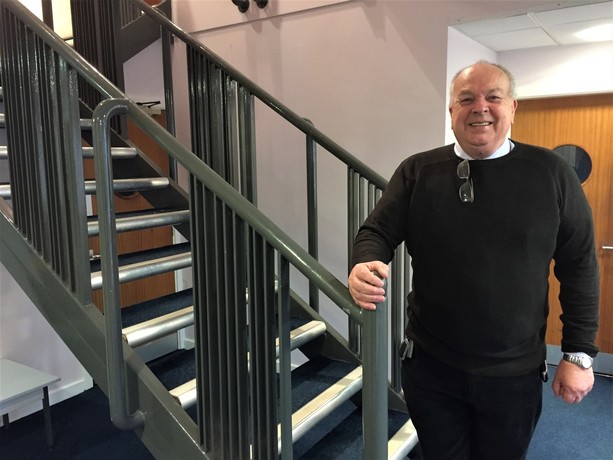 AN office block which was built more than 30 years ago by a pioneer of bar code technology is being given a new lease of life with conversion into a business centre.
Entrepreneur Tony Gartland has bought the building which he first saw when he fitted the heating system for Kingstown Photocodes, which became KTP. One of his first jobs will be to re-paint the specially-designed, bar code-style staircase in eye-catching black and white.
Tony said: "The railings were designed to look like bar codes but at some point over the years they've all been painted a drab, dark grey. We'll take them back to bar-code black and white!"
Kingstown Photocodes was founded in 1977 and became the UK's first manufacturer of bar code film masters. The company moved to the purpose-built Waltham House, next to the River Hull in Beverley, and built a strong reputation internationally before being sold to US-based Trenstar in 2001.
Tony was involved in fitting the heating system for Hull-based Neville Tucker and he remains a director of Neville Tucker Services Limited, which became independent in 2011. His aim with Waltham House is to take a building which he knows very well and turn the 22,000 square feet of space into a prestigious business centre.
He said: "The building has changed a lot since we fitted that first heating system, and it enables us to offer a variety of business accommodation. They added a second office building and then a warehouse with offices.
"At the moment it's about 80 per cent offices and 20 per cent warehousing. There are small and large office suites, call centre configurations, training rooms and presentation equipment, even phones and photocopiers. There's an examination room with a sign on the door requesting silence. There's a canteen and several kitchens and much of the furniture is in very good condition. The conference room can probably accommodate 100 people and there are 64 parking spaces with room to create more.
"I always liked Waltham House from the first time I saw it and I want it to be a really prestigious site. I want to spruce it up and turn it into a building where people really want to be rather than just another place to rent. The timetable depends on the level of interest. There is a lot of work to do but we have already got the decorators in for some parts of it."
Paul White, Agency Director at Garness Jones, explained that the building was bought by a training charity, Deflog VQ Trust, after KTP moved out. It was then gifted to East Riding College, which decided to sell because its needs were met by new facilities in Beverley and Bridlington.
Paul said: "There is a shortage of good office stock in Beverley, especially with this amount of parking. There is the potential to convert some of it into small industrial units, where there is also a lack of supply.
"Tony is very flexible and wants to make it right for his tenants. There is nothing like this in the Beverley area – it has wonderful views across the fields and along the River Hull and it even has berthing rights! We already have businesses interested and we have had enquiries about gym use, offices and industrial."
John Doris, Vice-Principal Finance and Resources at East Riding College, said: "When Deflog VQ Trust was wound up they gifted us the building and the land but we were unable to find a suitable use for it so we sold it and will use the proceeds to further invest in improving education for young people in the East Riding area such as the mechatronics school at our Bridlington site and facilities in Beverley."