Grimsby MP's passion shines through on Brexit at lunch with Chamber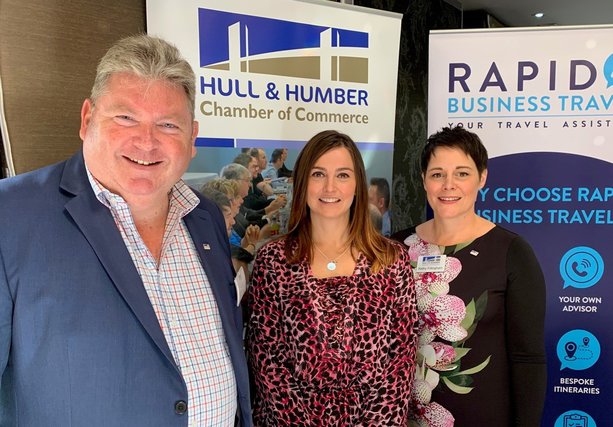 GREAT Grimsby MP Melanie Onn spoke passionately about the burden of responsibility she felt over Brexit and helping to secure the best outcome not only for her constituents, but also for her country the day after the Prime Minister struck his Brexit deal with EU leaders.
Speaking to Chamber members at a lunch at the Ashbourne Hotel in North Killingholme sponsored by Rapid Travel Group, the MP for Grimsby thanked the Chamber for the work it does for the Humber area and the support it provides to Grimsby businesses.
Having campaigned for Remain, Melanie said the Referendum result locally was not a surprise with 70% of the people in her constituency voting to leave, so in her view it was the right thing to do to now implement the people's Brexit decision.
She said one of the biggest messages she kept hearing from local businesses in Grimsby and the Humber was that we can't keep having these extensions to Article 50 and that they need clarity on the future direction of policy so they can plan accordingly.
With the main Parties spending huge amounts of time trying to corral MPs to a decision, Melanie said others were trying to string things out longer and longer until the Referendum result becomes less relevant, but the result was that Parliament was left looking very chaotic and in disrepute.
On a more positive note, Melanie praised the Great Grimsby Town Deal which will see tens of millions of pounds invested in the area bringing regeneration and jobs in a landmark deal which is being held up as an example of excellence by other local authorities around the country.
She praised North East Lincolnshire Council for putting together a set of plans which were signed off by the Government which will bring new life to the town in the form of regeneration, better roads, new housing and jobs.
Chamber Chief Executive Dr Ian Kelly thanked Melanie for her passionate, honest and very open insight into the challenges facing Humber MPs in Westminster and in their constituencies and wished her luck in her deliberations on Brexit, noting that the Humber business community were now anxious to see an end to the uncertainty which has hung over the UK for the last three years.