Grimsby gets LinkedIn to new opportunities with Chamber community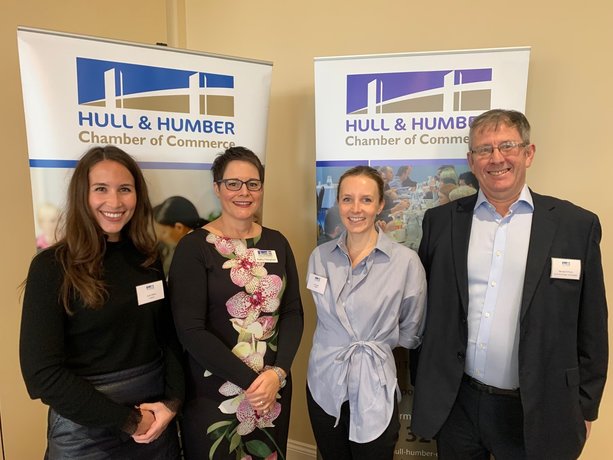 THE world's oldest professional network LinkedIn has been using Grimsby as something of an experiment in recent months to explore how the power of community can help people access new jobs across a small community.
LinkedIn's Lucy Davies and Lucy Kerr travelled up from London to join the Chamber for a speaker lunch at the superb new facilities at the Stallingborough Grange Hotel.
They told their audience that their LinkedIn platform had helped to bring a traditionally close community, even closer, with "Grimsby United" supporting people in search of a new job or looking to grow their business. LinkedIn has also sponsored Grimsby Town FC in its first football sponsorship deal and launched a major cinema advertising campaign.
The LinkedIn presentation highlighted Fastline Shellfish as a case study, having helping owner Darren open up new markets in China for his seafood products.
With the slogan "Whatever you're in it for, we're in it together", they highlighted some of the challenges facing businesses and interesting statistics. For example, SMEs account for 99.3% of all private sector businesses in the UK, and 41% of those businesses struggle to recruit the right kind of staff, a figure reinforced by the Chamber's Quarterly Economic Survey results. Technology is critical to growth of their businesses for 71% of SMEs.
LinkedIn itself is a US company and in its 20 years has become the world's oldest professional network, but as Chamber President Kathy Fillingham highlighted, nothing beats personal connections and talking to each other, but digital networking can be a great help to businesses.
Lucy told the Chamber's lunchtime guests that 660-million people now use LinkedIn in 32-million companies spread over 20-million jobs and they have created 8-million pieces of content.
Other benefits include job posting and recruiting, sponsored content, shared B2B and B2C marketing, sales solutions, learning sessions and Glint – its people success platform which leverages real-time people data to help global organizations increase employee engagement, develop their people, and improve business results.
In the UK, 27-million residents are on the platform, and 11-million of them are decision makers. This includes 240,000 IT decision makers and all of those people are likely to share a post. Incredibly, we Brits scroll over 96 metres of content, which if put end to end is taller than Big Ben or the Statue of Liberty.
Lucy went on to give a master-class of how to build a company page, and offered her favourite quick tips – get visual and keep it short and sweet. Snackable stats can work wonders and she advised guests to be concise, use imagery, be relevant, and test and refine what works for you.
Chamber President Kathy Fillingham thanked the LinkedIn ladies for their presentation and highlighted the recent launch of the Northern Lincolnshire Business Awards which are now open for entries. Anyone interested in finding out more about the Awards can visit nlincsba.co.uk
You can find the Chamber's LinkedIn page by clicking here https://www.linkedin.com/company/hull-&-humber-chamber-of-commerce or ask to our join our members group here https://rb.gy/w9wtvy