Green Port Hull Business Desk opens in Copenhagen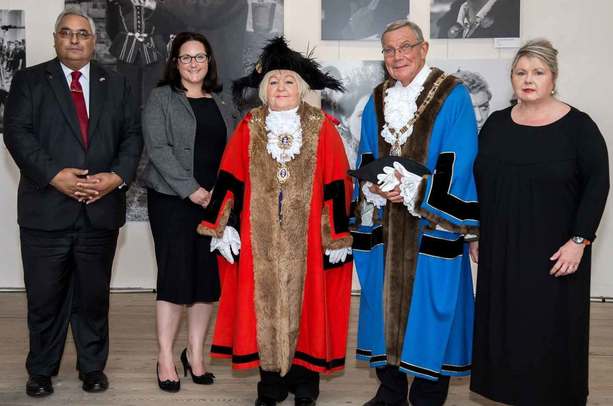 A GREEN Port Hull Business Desk has been opened in Denmark to help attract further inward investment into the Humber's renewable energy sector and supply chains.
Launched in Copenhagen, its aim is to help European businesses looking to forge partnerships with Hull and East Yorkshire firms to tap into opportunities presented by the £310m Green Port Hull project. The desk will also promote inward investment opportunities in Hull for Danish businesses and present potential joint ventures between firms in Denmark and the Humber.
The objective is to capitalise on the current high profile investments in Green Port Hull including £310m by Siemens and Associated British Ports.
A delegation from Hull, including civic leaders from both Hull and the East Riding of Yorkshire Councils and local business representatives attended a dinner in Copenhagen to mark the launch of the business desk.
The Lord Mayor of Hull and Admiral of the Humber, Coun Anita Harrison, said: "We, as a city, have a long-term vision to establish Hull and the East Riding as a world-class leader in green energy and people are starting to recognise both nationally and internationally the critical role Hull is playing in its growth strategy for economic prosperity.
"The Humber is fast becoming established as the UK's Energy Estuary and the desk will allow us to capitalise on potential inward investment opportunities."
Coun Peter Turner, Chairman of East Riding of Yorkshire Council, said: "I am delighted to be representing the East Riding of Yorkshire Council in jointly launching the Green Port Hull Business Desk in Denmark with my colleague the Lord Mayor of Hull. This joint venture marks another milestone in steps towards economic growth as a result of the emerging renewable energy sector developments in our region. Partnerships and collaboration are critical if we are all to maximise on this opportunity. I will take great pleasure in being part of welcoming our Danish partners to this initiative."
The Green Port Hull desk in Denmark will be the initial point of contact for Danish businesses while the Hull & Humber Chamber of Commerce will handle enquiries from UK businesses. Together they will evaluate the requests and manage the delivery process.
Pauline Wade, Director of International Trade at the Hull & Humber Chamber of Commerce, said: "The aim of the desk is to facilitate relationships and encourage partnerships between businesses here in the UK and in Europe through European Chambers. We will be an initial point of contact and will manage the signposting process. Not only will this partnership attract inward investment to the Humber region but it will also support UK businesses.
"Denmark and Germany have been active in the renewables energy sector for years and the knowledge, expertise and standards achieved in these countries can be beneficial to businesses in the Humber and in the UK. Our renewable energy industry is still in its infancy and there is a lot to be gained from those who have experience in this sector."
Humber businesses wanting to find out more about Green Port Hull opportunities should email greenporthull@hhchamber.co.uk