Driving Humber transport agenda to the House of Commons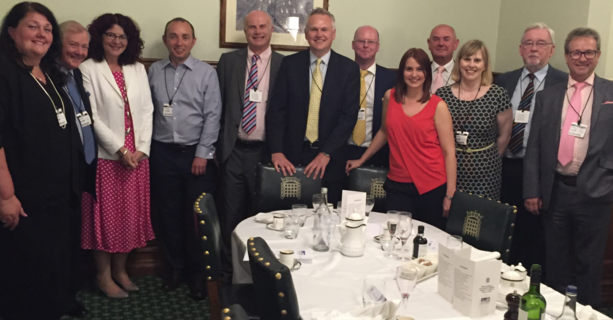 CHAMBER leaders met to discuss transport priorities for the Humber on 14 June at a private dinner at the House of Commons.
Hosted by Diana Johnson with support from Melanie Onn to provide a pan Humber strategic perspective, business leaders heard from special guests, Louise Ellman MP, chair of the House of Commons Transport Select Committee and David Brown, Chief Executive of Transport for the North, the body tasked with improving transport links across the Northern Powerhouse.
It was acknowledged that the Humber had suffered from some of the lowest transport spending in the UK in recent years and whilst the Chamber and others had been part of the joint lobbying successes for priorities such as The Hull Trains franchise, reduced Humber bridge tolls as well as supporting the A160 into Immingham and Hedon Road improvements, there was still much to do.
Leaders including Lord Haskins from the Humber LEP reviewed a list of five rail passenger priorities which were passed to David Brown at Transport for the North to reflect on. These included:
1. Electrification of the line between Hull to Selby/Temple Hirst Junction.
Connectivity with East Coast Main Line and Transpennine (and eventually HS2) with electric trains replacing diesel trains to London, York, Leeds & Manchester.
Faster trains, lower emissions, newer rolling stock.
2. Line speed improvements between Hull, Goole and Selby.
Faster trains, increased capacity removing constraints at Hessle and Gilberdyke). Network Rail signalling improvements are currently underway between Hull and Selby.

3. Increased frequency, short journeys & greater connectivity with Northern Powerhouse.
To get half-hourly 'fast' services between Hull and Leeds. Increase range of direct destinations: Manchester Airport and/or Liverpool. Later trains to Hull (Currently restricted to 23.30).
4. Direct service between Cleethorpes, Grimsby, Scunthorpe & London.
Recent Open Access application by Great North Eastern Railway Company (GNER) for four return services rejected by Office of Rail and Road (ORR).
5. Development of West Hull rail corridor.
Quick win improvements by creating parkway stations at Brough, Gilberdyke and Howden including integration with other modes of transport.
These rail passenger priorities formed part of a wider strategic discussion about maximising the River Humber's unique transport geography through the Humber as the largest trading estuary in the UK. Business Leaders from both sides of the river reflected on how the river should unite rather than divide the area as a functional economic unit and David Brown from Transport for the North stressed how much he saw both banks of the river being part of the transport priorities he had to deliver for the Northern Powerhouse.
Business leaders noted that virtually all Transport for the North's money was being allocated in the North West or between Manchester and Leeds and Chamber leaders felt we needed to see bigger strategic recognition of the 'Hullapool' element including Hull and Liverpool. Given that the Humber will see no new trains in service in this part of the franchise area for the next 4-5 years, we would like to see short-term quick improvements to car parking at Howden, Brough, Gilberdyke and Selby which would be a relatively cheap and easy way of showing some evidence of activity and goodwill from the train operators to our part of their franchise areas, especially for those that can only practically access our limited rail connections by using the car.
Leveraging international shipping and air routes to generate economic growth and inward investment was another discussion point and how to maximise the Humber as the 'Energy Estuary' as well as a food, chemicals and logistics cluster for exports.
Other topics such as Castle Street in Hull, the A15 duelling to Lincoln and the benefits of having EYMS as one of the best regional bus companies in the UK were also flagged up.
Chamber Chief Executive Dr Ian Kelly summed up the evening by highlighting that "these were lively and at times robust, but always friendly, discussions", noting our lack of transport spend but we came away with much food for thought on how to get the best out of our excellent personal relationships with Transport for the North, and in-particular how we might translate that into hard cash spending in our part of the world in the future."