Chamber welcomes Mark as new Area Council chair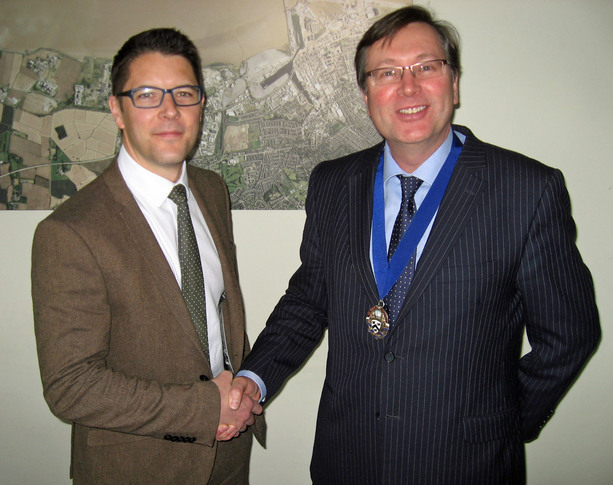 HULL & Humber Chamber of Commerce's North East Lincolnshire Area Council has welcomed Mark Warburton as its new Chair.
His predecessor, Kevin Hopper, of Forrester Boyd, handed over the chain of office at the beginning of the April meeting held recently in ABP's boardroom at the Docks Offices, where the Chamber's Grimsby office is based.
Kevin thanked the Chamber's Grimsby manager Anne Tate for her support and guidance during his time as Chair.
Mark Warburton, who has always worked and lived in the Humber region, thanked Kevin for "his excellent work during his time in the role" and said he was looking forward to his year of office.
Mark, whose mother was from Grimsby, was born in Northern Lincolnshire, now represents several companies. He said: "In the context of the plans for Greater Grimsby and the depth and breadth of the trading activities in the area, we have a great opportunity in North East Lincolnshire to build on these significant commercial opportunities and I would hope as chair of the Chamber's North East Lincolnshire Area Council to positively influence these prospects."