Chamber's unanimous backing for Grimsby Town Deal's 'groundbreaking opportunity'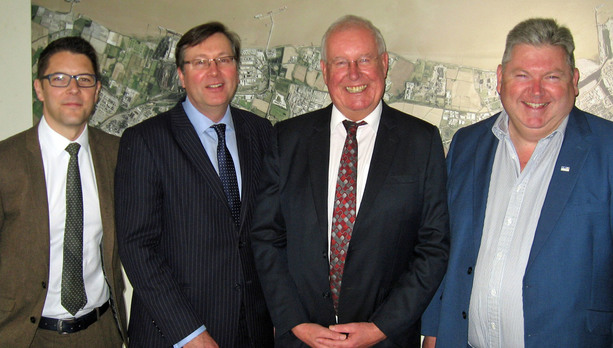 THE Leader and Chief Executive of North East Lincolnshire Council have told Chamber business leaders about their exciting plans for a Grimsby Town Deal and were given unanimous backing by the Hull & Humber Chamber of Commerce leaders.
Leader of the Council, Ray Oxby, said that after the Lincolnshire devolution deal failed, Council bosses realised that the town had to raise its profile and be seen in Government as fresh thinking and progressive, so he and Chief Executive Rob Walsh had decided to reboot the momentum on regeneration with the formation of a Greater Grimsby Regeneration Board to try to transform key parts of the town.
Chamber business leaders at their last meeting in Grimsby gave the regeneration initiative its unanimous support. Chamber Chief Executive Dr Ian Kelly said: "The Chamber strongly welcomes and supports this kind of regeneration proposal that is taking shape in Grimsby. It is highly ambitious for the town and the surrounding areas."
Cllr Oxby explained how senior political and business figures had backed the plans to regenerate important parts of Grimsby, including leading businessman and philanthropist David Ross, MPs Melanie Onn and Martin Vickers, along with Associated British Ports, Lord Bob Kerslake, and Lord Norman Lamont.
At the Chamber presentation the two local authority leaders were keen to point out that when the Government's Industrial Strategy was published, North East Lincolnshire was not only in it, but the only local authority to be mentioned in the document – on Page 226!
It is estimated that the town deal bid for £36.9-million from the Treasury could have a multiplier impact on the local economy to the value of £216-million creating 7,700 new homes and 5,000 extra jobs. The plans would help to create a strong waterfront culture, with the historic Kasbah area on Grimsby Docks having been declared a conservation site of significant interest by Historic England. Cllr Oxby said it was all about partnerships and that he hoped that by the end of May or early June the package of measures will be agreed with HM Treasury and then announced.
He noted the Council has a good relationship with key Whitehall civil servants and are currently having constructive talks with them and they also have the backing of Secretaries of State Greg Clark and Sajid Javid, with Mr Clark being a particularly passionate advocate of the Humber.
"This is the moment to make this happen," Cllr Oxby noted. "It's a once in a generation opportunity to make this happen and bring vital new jobs and housing to the town.
Council Chief Executive Rob Walsh said the Town Deal will be the first of its kind in the country. "The Council's portfolio of programmes and activities in this area is being overseen, challenged and supported by the Greater Grimsby Regeneration Board. It is chaired by a successful entrepreneur in David Ross, whose major Grimsby family connection goes back decades. Other notable members include Lord Kerslake, Lord Lamont, the chairs of both local LEPs, Historic England, both local MPs and Orsted managing director Matthew Wright, all of whom bring enormous experience to the table.