Chamber presents letter to Rail Minister in Commons appealing for direct trains from Cleethorpes to London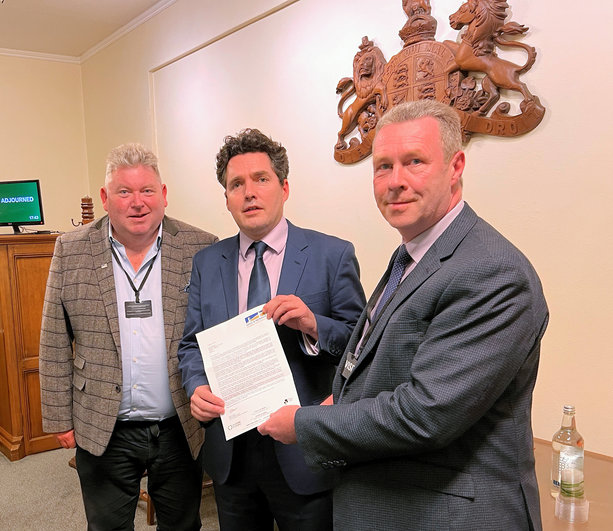 THE Hull & Humber Chamber of Commerce met with Rail Minister Huw Merriman in the House of Commons to appeal for direct train services to London.
The Chamber's External Affairs Director, David Hooper, presented a letter to the Minister on behalf of the business community asking him to approve plans and funding to reinstate direct rail services between Cleethorpes and Grimsby to London, which would give Northern Lincolnshire businesses direct services to the Capital for the first time in more than 30 years.
The route, which would see a first and last service introduced by LNER, linking into the existing routes running from Lincoln to London, would be at minimal cost in rail terms, yet the economic benefits to the Northern Lincolnshire region could be massive.
Receiving the letter, the Minister promised to consider the Chamber's plea and said he was aware of the ambitions for Northern Lincolnshire, adding that questions had again been asked in the Commons recently by local MPs, led by Cleethorpes MP Martin Vickers.
This latest development comes after LNER ran test trains along the route in July to ensure the trains could travel on the railway lines without hitting platforms or trackside furniture. Engineers were also checking issues such as disabled access and platform lengths.
During the train's visit to Cleethorpes, LNER's Managing Director David Horne told the Chamber that while everything was looking promising from a practical point of view, the Government still had to approve the funding, which at around £1-million per year, in rail industry terms, is negligible.
Hopes were raised that this funding might now be granted following the cancellation of the northern legs of HS2 recently, freeing up around £36-billion to be allocated to other rail services and as business travel recovers following the pandemic, the need for this service is still a priority for the south Humber region.
The Chamber also asked for direct rail services to the region's hub airport in Manchester to be reinstated following timetable changes which mean those well used regular services were recently discontinued from Hull and Cleethorpes.
The Minister promised to read the letter carefully and see what he could do to finally bring these long-standing ambitions to fruition.